Raise a glass with Maui Motorhomes and explore New Zealand in style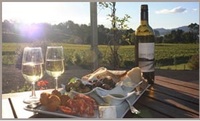 Maui Motorhomes, part of New Zealand's largest rental vehicle provider, has hand-picked some of New Zealand's most picturesque wineries to create a new Winery Havens network offering wine lovers exclusive overnight vineyard stays from the comfort of their premium Maui campervan.
The Maui Winery Haven experiences are only available to those exploring New Zealand in a Maui Motorhome and begin from just $140 dollars (approximately £84) per campervan per night. The package includes an overnight motorhome pitch at one of the five vineyards, a gourmet local food and wine hamper for two and access to a winery vintner. Guests are able to sample distinct New Zealand wines and learn about how old-world artistry is blended with the latest technology to produce award-winning wines.
"Our Maui customers crave three things from their experience in New Zealand – stunning scenery, an opportunity to learn and a connection with real New Zealanders. The Maui Winery Haven concept delivers on all fronts with the beautiful vineyards for their overnight stay, education about the local foods and wines and a chat with the winery staff." says Kate Meldrum, Group Revenue, Brand and Customer Experience Manager, "the feedback we have received so far from customers has been very positive".
The Maui Winery Haven Network consists of five beautiful vineyards located across the North and South islands of New Zealand. The wineries have been selected to showcase the country's best wines from the finest Pinot Noir in the Mercury Bay Estate in Coromandel, North Island to the Sauvignon Blanc in Forrest Wines nestled in the Wairau River Valley, Marlborough, South Island. Wine-loving travellers have the choice of visiting just one of the Winery Haven properties or they can choose to sample all five listed below:
Mercury Bay Estate
The Mercury Bay's rugged coastline covers some 20km of the eastern Coromandel Peninsula in New Zealand. Named after James Cook's 1769 voyage which anchored at Cooks Beach, today Mercury Bay Estate is a boutique, family owned vineyard and winery producing Coromandel's finest wines using sustainable means. mercurybayestate.co.nz
Linden Estate
Situated 15 minutes north of Napier, on the slopes of the Esk Valley hills, Linden Estate enjoys the warm climate of Hawkes Bay, New Zealand's most versatile winegrowing region. Free from a corporate structure, the approach at Linden is governed by quality over quantity. The production team are given the freedom to experiment rather than making wine to a tested formula or recipe. Crop levels are also kept low to ensure maximum accumulation of complex flavour in each bunch and the focus is on high quality, boutique wines. An elevated cellar door above the surrounding vines provides a breathtaking vista across the valley floor to the wooded hills in the background and is the perfect spot to sample the estate's wine. lindenestatewinery.co.nz
Coney Wines
Established in Martinborough in 1996 by ex-city dwellers Tim and Margaret Coney, the Coney guiding principle is 'small is beautiful'. Tim does the viticulture, daughter Lisa the winemaking and Margaret is the food loving chef at their thriving Trio Café. Production of their wines, Pinot Noir, Syrah, Pinot Gris, 3 Rieslings and Ramblin' Rosé occurs only ever in modest volumes. coneywines.co.nz
Carrick Wines
Located in Bannockburn in the wine region of Central Otago and nestled at the southern end of one of the broad glacial river valleys, the winery enjoys a continental climate surrounded by the Cairnmuir and Carrick mountain ranges. The long autumns with their warm days and cool nights create ideal conditions for the production of Pinot Noir, Chardonnay and Riesling. carrick.co.nz
Forrest Wines
Forrest Wines nestled in the Wairau River Valley Marlborough was launched in 1988 by doctors John and Brigid Forrest and was one of the first ten wineries in the Marlborough region. The vineyard focuses on producing premium wines and has gained a reputation for excellent Sauvignon Blanc, Riesling and Chardonnay wines. The beautiful park setting with its willow trees, a duck pond, Petanque and picnic tables makes this vineyard a family friendly option. forrest.co.nz
Maui Motorhomes has been delivering unforgettable self-drive holidays for more than 25 years in New Zealand and Australia with a franchise in Southern Africa. A self-drive motorhome holiday offers travellers all the comforts of home at their fingertips whilst also having the flexibility to travel wherever the road may take them at their own pace. The Maui branches are located in major tourist hubs, including Christchurch, Queenstown and Auckland airports, making it convenient and easy to begin and end a motorhome holiday.
Whether travelling as a couple, family or group of friends, the Maui range of automatic easy-drive campervans sleeping up to two, four or six people can accommodate every kind of trip. Stocked with kitchen equipment and freshly laundered bedding, guests can avoid excess luggage without sacrificing the comforts of home. A linen exchange, express return and free valet service (for customers spending more than 21 days on the road) are also available. Peace of mind is also only a free phone call away with the 24/7 helpline, manned by experts ready to assist.
With a grape to tickle every taste bud, why not schedule a visit to one of the Maui Winery Havens?
For more information on Maui Winery Havens visit:
maui.co.nz/motorhome-hire-promotions/Pages/maui-winery-havens.aspx
For more information on Maui Motorhomes visit: maui-rentals.com