Hentai Collection from Simon Preen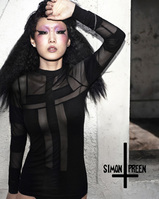 London College of Fashion graduate Simon Preen is fast making a name for himself since the launch of his debut capsule collection in Urban Outfitters Flagship Oxford St store just two years ago. With his signature bold lines and daring cut out shapes combined with his decadent and macabre aesthetic, Simon Preen has an exquisite vision for empowering design.
Ahead of the release of his 5th ready to wear collection entitled 'Bakeneko - Changing Cat' comes the 'Hentai Collection' the first mid season range from Simon Preen and exclusive to ASOS. Taking inspiration from Japanese literature of an adult nature, this capsule, including for the first time some menswear items, focuses its attention on the sexual allure of the gothic Lolicon and Bishonen, the power of submission and indulging the Lolita complex.
Simon's minimal gothic approach combines the dark decadence of a recent past with the current mood of London's fashion youth. By playing with the balance between masculine and feminine the aim is to overcome the idea of fixed gender in style, creating a truly unique collection.
Not for the faint of heart, or conscious of body, Simon Preen is a name you won't forget in a hurry.
StyleNoir Magazine says: "Simon Preen is an extraordinary being, a designer that isn't afraid to be true to himself and push the boundaries of self expression. To innovate and create a simply exquisite vision"
"Something unique is always what you want as an artist and an outfit that makes you feel amazing and ready to give a special show and that's why I like to wear Simon Preen" - Jessie J