A beach holiday with a difference - in Colorado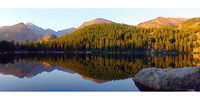 When you think of Colorado as a holiday destination, you think of national parks, outdoor activities, history and heritage and beautiful scenery, not beaches. Yet there are several beautiful beaches in the state where you can work on your tan, swim, build sandcastles and camp, all with views of the stunning Rocky Mountains.
Medano Creek, Great Sand Dunes National Park and Preserve
Medano Creek is Colorado's secret swimming beach. Every spring, the wide shallow Medano Creek emerges from the Sangre de Cristo Mountains behind the sand dunes to form an oasis for those waiting to build sandcastles and cool off. Come late August, the creek disappears for another year.
Popular activities at Medano include swimming, sand sculpting, skim boarding and walking in the sand dunes.
Jackson Lake State Park
The warm water and sandy bottom beaches are popular with swimmers and water skiers looking to cool off each summer in Colorado's eastern plains.
Grand Lake
Situated on the western edge of Rocky Mountain National Park, Grand Lake is Colorado's largest natural lake. Its sparkling blue water is the perfect beach destination for a day trip or week long getaway. As well as cooling off in the lake, you can hire a variety of boats at the marina, including speedboats, canoes and fishing boats.
Chatfield State Park
This state park is one of the most popular destinations in metro Denver with plenty of activities going on, including hiking, water sports and wildlife viewing. There are 197 campsites all within walking distance of the water.
Colorado is a four-season destination offering unparalleled adventure and recreational activities, an abundant arts scene, Western heritage, distinctive cuisine, and 26 renowned ski resort areas. The state's scenic landscape boasts natural hot springs, the headwaters of four major rivers, many peaceful lakes and reservoirs, nine national parks and monuments, and 54 mountain peaks that top 14,000 feet.
For more information, visit facebook.com/visitcolorado.