Flying Outback Pub Crawl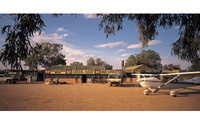 Visitors to South Australia can now whet their appetites on an authentic Aussie Outback experience - the Flying Outback Pub Crawl which serves up stunning scenery and a refreshing way to meet the locals over some 'amber nectar' at favourite watering holes.
Goin' Off Safaris (goinoffsafaris.com.au) has created an escorted tour taking in out of the way Outback towns in order to visit pubs for a natter with the locals (all legends with big personalities) over a cold 'frothy' and a hearty meal.
The pint-inspired pit stops include Marree, Innamincka; Birdsville; William Creak - Australia's most isolated pub; and Glendambo. There are departures dates throughout 2012 some of which coincide with key events like the Birdsville Races and the AFL Grand Final:
24th-26th August
31st August-1st September(Birdsville Races)
7th-9th September
28th-30th September (AFL Grand Final)
Tours depart from Adelaide in a spacious Fairchild Metro II turbo prop aircraft. Scenic highlights include low level flying over the ancient Flinders Ranges described as the region's backbone, the spectacular Coongie Lakes - listed as a Ramsar Wetland of International importance, and Lake Eyre, Australia's largest lake replete with prolific bird life.
The tour also includes historic diversions such as The Dig Tree on Cooper Creek, one of the most famous and least visited rivers in Australia where the possessions of famous explorers Robert O'Hara Bourke and William John Wills were buried after their ill-fated attempt to cross inland Australia.
The tours are priced at AUD$3,130 (approx £2,090) per person and include:
Adelaide Airport transfers
Two nights accommodation at Innamincka and William Creek
All meals
Experienced guide
Guided tour around Birdsville
For further information, visit uk.southaustralia.com.