Unique Mazda CX-5 makes star debut in Manheim online auction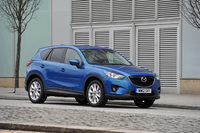 Mazda's ground-breaking all-new Mazda CX-5 compact crossover SUV featuring breakthrough SKYACTIV technology has made its UK auction debut achieving 109 percent of CAP 'clean'.

The star performer was the Mazda CX-5 2.0 Sport Nav 5dr, which was among a total of 64 vehicles offered for sale from Mazda Motors UK's own fleet via a closed CyberAuction sale.

The Mazda franchise network logged into the online auction, which also included a wide range of high-specification models from across the manufacturer's model range.

Other star performers included a Mazda3 1.6D TS2 Nav achieving 114 percent of CAP 'clean' and a Mazda6 2.2 MZ-CD diesel Sport 180ps achieving 108 percent of CAP 'clean'.

CyberAuction is powered by Manheim's online system, Simulcast, which allows dealers to bid online from a convenient location and participate in the live interactive closed auction. Mazda Motors UK has been operating a CyberAuction sales programme since 2008.

Mazda Remarketing Manager Tamara Brown said: "Good quality late plate used car stock is in short supply so it is encouraging to see so many dealers engaging with the CyberAuction programme.

"The fact that there was strong bidding for the recently launched CX-5 and that it sold for 109 percent of CAP 'clean' is positive proof that the vehicle is highly desirable in both the new and used car market."

James Leese, Sales Director Manufacturer, Manheim Remarketing said: "We're very pleased with the results achieved for Mazda at its launch of the CX-5. An auction debut is always an exciting occasion especially for such an important vehicle. The high attendance, conversion rate and values achieved demonstrate that CyberAuction offers a powerful draw for buyers and can play a vital role in the success of any manufacturer's remarketing programme."

The recently launched CX-5 is the first car to benefit from Mazda's SKYACTIV technology, which has as its three key attributes economy, safety and performance.

The SKYACTIV fuel-sipping, emissions-busting technology promises to redraw the automotive landscape as it is rolled out across the rest of the Mazda line-up with the launch of new models.

The 2-wheel drive (2WD) 2.0-litre SE-L SKYACTIV-G 165ps petrol engine range gives drivers a choice of SE-L, SE-L Nav, Sport and Sport Nav trim levels. Emitting 139g/km of CO2 and returning 47.1mpg on the combined cycle, no competitor models can match such figures given the available power.

Diesel engine performance - 2.2-litre powerplants with a choice of SKYACTIV 150ps or 175ps engines with 2WD or all-wheel drive (AWD), manual and automatic transmissions and four equipment levels (SE-L, SE-L Nav, Sport and Sport Nav) - is similarly unmatched in terms of both CO2 emissions (from 119g/km) and fuel economy (from 61.4mpg on the combined cycle).