New photographic safari takes your lessons outside, in Botswana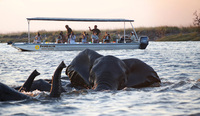 Who hasn't dreamed of getting that perfect wildlife shot? TripAfrica has teamed up with Pangolin Photo Safaris to put together an amazing 9 night trip including a 5 day wildlife photography course set in the stunning Chobe National Park where you will learn how to take the perfect shot in the most perfect of backdrops! The 'Photographers Footsteps' safari sandwiches the wildlife photography course between the incredible Victoria Falls and the magical Okavango Delta creating a fantastic safari package.
The School
Pangolin Photo Safaris are a new specialised operation offering short photographic courses & activities in & around Chobe National Park, Botswana. Their range of safari vehicles are perfectly equipped for both the amateur and experienced photographer and training is of the highest standard to suit all photographers & cameras. Pangolins Better Wildlife Photography course incorporated into this trip is run by professional, renowned wildlife photographers & guides James Gifford or Gerhard Swanepoel and covers both technical and artistic aspects of photography. All 'lessons' are taken outdoors in the National Park and further training, critique and refinement continue back at the lodge.

The Classroom
The wildlife photography course takes place in the world famous Chobe National Park and lessons are conducted both in an expertly converted photographically equipped Unimog or a similarly equipped photo boat. Chobe National Park has the luxury of exceptional game viewing year round and some of the highest densities of elephant populations Africa-wide. Home to wild-dog, leopard, cheetah, hyaena and lion and vast herds of buffalo, this little corner of the world is bound to provide plenty of drama and has to be ultimate classroom.
The Trip
The Photographers Footprints safari is from £4,465pp and is inclusive of the following:
*2 nights Waterberry Lodge, Livingstone ,Zambia.
Full board accommodation. Victoria Falls visit. Sunset boat trip on the Zambezi River
*4 night/5 day Better Wildlife Photography course. (2 nights Botswana/ 2 nights Namibia)
Full board accommodation. Two daily game viewing activities/lessons. Professional photographer/guide.
*3 nights Sango Safari Lodge, Moremi Game Reserve, Okavango Delta.
Full board accommodation. Two daily game viewing actitivies
*All transfers, internal & regional flights
*International flights from London Heathrow
This 9 day 'Photographers Footsteps' trip will run once monthly and can be joined by individuals, couples, families or groups of friends. Non-photographers can be accommodated and private departures can be organised on any date (subject to availability) for a group of 6 persons or more.
For more information, visit tripafricatravel.com.