MSC Opera to set new standards in South African cruising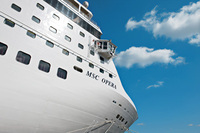 MSC Starlight Cruises will set new standards in South African cruising with the introduction of luxury cruise ship MSC Opera for the 2012/13 summer season. She will join her popular sister ship MSC Sinfonia, which is already a familiar name in South African cruising, having cruised locally for the past three seasons.
"The decision to send both MSC Opera and MSC Sinfonia to South Africa for the upcoming 2012/2013 season shows the level of commitment MSC Cruises has to the South African market. We will continue to invest in the destinations, and the development of port infrastructure to continuously improve the product and the guests' overall experience," said Allan Foggitt, head of Marketing for MSC Starlight Cruises South Africa.
Cruising is the fastest growing sector of the travel industry worldwide and South Africa is no exception, with phenomenal growth experienced over the past few years. The prime reason for this growth is the exceptional value offered by cruising, with all meals, accommodation and entertainment included in the price of the fare, plus the fact that children under 18 cruise and eat for free. This makes cruising not only a luxurious and exciting local holiday option, but also one of the most affordable.
The operation of both MSC Opera and MSC Sinfonia for the 2012/13 South African cruise season will enable an extra 135,000 passengers to experience Mediterranean style MSC hospitality over the course of the season. This will set a new record for local cruising, surpassing the previous record by nearly 25,000 passengers.
The 251 metre MSC Opera will arrive in Cape Town, South Africa for the first time ever on 19 November 2012 and will operate out of Durban from 22 November 2012 until early March 2013, taking over the popular Mozambique three and four night cruises from MSC Sinfonia.
MSC Opera is slightly larger than her sister ship and can accommodate over 1,700 guests. The 'Lirica Class' ship will bring a new elegance to local cruising and South African guests will enjoy the glamorous décor of the stately ship, with public areas enhanced by a sweeping marble reception area and magnificent open spaces with glass walls for the most spectacular ocean views.
MSC Opera hosts 856 cabins of which 172 are balcony cabins and 28 are balcony suites. The ship has four restaurants, eleven bars, two pools, and two whirlpools. The liner boasts the MSC Aurea Spa and Solarium, a disco, video games room, internet café, casino, team building facilities and a medical centre. The ship has a wonderful array of duty free shopping and caters for kids with the Buffalo Bill children's play area. Additional facilities include the 'Cotton Club' bar and a stage on deck for outdoor entertainment.
The already popular MSC Sinfonia, which holds over 1,500 guests, will arrive in Cape Town on 28 November 2012 and operate out of Cape Town until mid-April 2013. MSC Sinfonia will replace the smaller MSC Melody which has operated the Cape for the past two seasons, allowing guests from the Cape region the opportunity to experience a totally new product from their own home port.
MSC Sinfonia will offer cruises to Mossel Bay, Hermanus, Walvis Bay, Luderitz, and, for the first time ever, an 11-night roundtrip cruise to Walvis Bay and St Helena, the remote unspoilt island where Napoleon was exiled and is buried. It is expected that the introduction of the MSC Sinfonia to the Cape will entice many more Gauteng residents to experience the different ports of call in the southern Atlantic and Indian Ocean waters.
MSC Sinfonia will also operate longer cruises from Durban to Madagascar, Mauritius and La Reunion, plus a number of coastal cruises between Durban and Cape Town, calling in at Port Elizabeth and East London.
MSC Sinfonia hosts 777 cabins, of which 132 are balcony suites. The ship also boasts four restaurants, 10 bars, two swimming pools and the luxurious MSC Aurea Spa. Guests can enjoy world class performances in the San Carlo Theatre and take advantage of the state-of-the-art fitness centre, golf simulator, casino, mini club, teen's club, disco, internet cade and luxury shopping. Additional facilities include a business and conference centre and medical centre.
Bookings for the new season are already open for both MSC Opera and MSC Sinfonia, with attractive offers for early bookings as well as special promotions for senior citizens and honeymooners.
The extensive facilities, onboard activities and entertainment on board both ships allow South African guests to tailor make their own experience in luxurious surroundings.
For more information, visit msccruises.com or mscstarlightcruises.co.za.