Zambezi Queen is green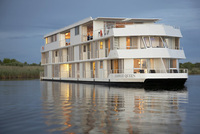 Creating a unique travel option in the Chobe, one of Africa's finest national parks stretching across 11, 000 km² of lush African bush was the inspiration behind the eco-friendly Zambezi Queen River Boat, part of the renowned Mantis Collection.
For owner and designer of the Zambezi Queen, Tony Stern, choosing an environmentally-conscious travel option was paramount. "It is important that in this day of relatively cheap travel, especially to eco sensitive destinations, that travellers are made aware of the negative impact they can create on some of the most remote areas that have not yet been affected with by man."
Guests tend to enjoy their experience even more in the knowledge that they are not leaving a heavy footprint after their visit. Being aware of the impact people have during their travels is in the forefront of the travelling community's mind nowadays.
While Stern succeeded in realising his dream of the green Queen, the process was not without difficulties. A lack of basic services, including roads and electricity made work a challenge. Finding suitable labour was also an issue as local skilled labour was not in abundance.
But the time and effort were all worth it for Stern, saying; "Very few travel experiences compare with the Zambezi Queen. We are located on a glorious river where four countries, Botswana, Namibia, Zambia and Zimbabwe meet. The bonus of all of this is some of the best game viewing in Africa."

Something that guests often remark on is the delightful contrast of being in a remote African destination and viewing all this raw beauty in sophisticated 5 Star luxury.
The Chobe is home to the largest elephant population in the world, currently estimated to be around 120,000. Elephants by the dozen often come down to the river to drink, and to play. Prides of lion, leopard, huge herds of buffalo and numerous species of antelope also wander the riverbanks, and hippos and crocodiles regularly appear from the water. And all of this can be enjoyed with a drink in hand sitting in a comfortable chair.
For Stern, summing up life on the Zambezi Queen is simple, succinct and enticing; "It is an absolutely unique experience."
For more information, or to make a booking for the Zambezi Queen, visit zambeziqueen.com.