Hotel Lone - Best place to watch a sailing regatta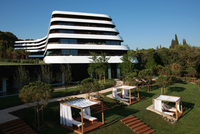 Following last year's success of the world-class Adris RC44 World Championships in the host port of Rovinj, boats and crew are set to return to the Croatian bustling fishing town to partake in the final race of the circuit from 3rd to 7th October 2012. The decisive race - both an exciting event for the crew and spectators - will provide non-stop action within metres from Hotel Lone, Croatia's first design hotel and convenient base to witness the final event of the season.
Equal to the prestigious America's Cup in competitiveness and significance, but set in an idyllic regatta field crowned by Mediterranean-style architecture and the scenic Rovinj Archipelago, the respected yachting race also doubles as the classes World Championship.
Transformed into an open-air venue, the stretch of sea surrounding Rovinj will be overtaken by 14-metre long high performance sailing boats designed by four-time America's Cup winner Russell Coutts. Each boat, from the keel to the main mast, is made of carbon fire, proving a light yet resilient construction - enabling for an exceptional performance in both light and strong winds.
The five-day boating event will kick off with one match race, due to be held on 3rd October, followed by four days of fleet racing and a prize giving ceremony at the ACI Marina.
Around twenty first-rate sailors are expected to set sail to compete for the winning title. Among the top competing teams are British Chris Blake's crew named "Team Aqua" (last year's winning team and the current leader in fleet racing) and the Russian "Synergy Russian Sailing Team", which, further to the previous four races of the tour, is currently taking the lead in match racing.
Within a few steps from Rovinj's marina and facing the sea is Hotel Lone, a five-star design hotel surrounded by the lush Zlatni rt forest. Launched in 2011, the strikingly modern build is the first Croatian member of the exclusive lifestyle brand Design Hotels AG. Together with its nearby sister property, Hotel Monte Mulini, it is the perfect accommodation choice to view the scenic race.
Further to the picture-perfect coastal vistas, Rovinj is a hidden gem boasting a rich cultural heritage, a quaint old quarter, lush landscapes, tranquil beaches and coves, culinary experiences - varying from truffle hunting to olive oil or wine tasting - scuba diving along the Baron Gautsch shipwreck, and a mild Mediterranean climate, to name a few of the many treasured assets that make the area an interesting and different holiday destination.
Hotel Lone is located in Rovinj, in the region of Istria, Croatia. Rovinj can easily be reached from the UK by flying to Pula or Trieste. Opened in summer 2011, Hotel Lone is Croatia's first member of Design Hotels. It is a strikingly modern build and an 'authentic' Croatian project, being the result of a co-operation between high-profile Croatian architects, designers and artists. Hotel Lone room rates start at €150, including breakfast and VAT.
Maistra d.d. is one of the leading hotel companies in Croatia and is a part of Adris Group. Maistra's tourist facilities are situated in prestigious locations in Rovinj and Vrsar, two beautiful tourist destinations offering unique natural, historical and cultural values. Maistra has ambitious plans to introduce and develop a new set of five-star luxury products and offerings in the region. In compliance with the set goals, Maistra seeks to become a leader for further tourism development in Croatia.
The RC44 championships 2012 circuit includes five races, with the final race taking place in Rovinj, Croatia. Previous races include Puerto Calero, Lanzarote (February), Cascais, Portugal (March), Gmunden, Austria (May) and Marstrand, Sweden (July). rc44.com
Further information on Hotel Lone can be found on the following website: lonehotel.com/en.