WAXX Underwear alternative model competition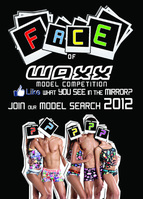 WAXX is a celebrity favourite brand renowned for pushing the boundaries in bold and daring designs. Originally designed for extreme sports and with the tagline 'Dare to Wear' the WAXX customer is trendy, unique and not afraid to be themselves.
WAXX are embracing this by giving the general public an opportunity to enter photos that capture the essence of their quirky style in the hope of becoming the new 'Face of WAXX.'
The competition started on the 1st June and runs for 6 months with top entries being submitted on Facebook and the monthly winners being carefully selected at Elite Apparel HQ.
The monthly winners will then join WAXX for the Grand Final at The Clothes Show Live in Birmingham in December 2012. They will show off their unique looks and personalities for an 'all star' panel to judge who they think breaks the 'model' mould.
One lucky guy and girl will be announced as the ultimate winners on 14th December 2012.
They will then represent the brand for a whole year, modelling at events and going on the road with Team WAXX. As well as taking part in an urban photoshoot, and get fully stocked up with WAXX merchandise.
To learn more about Face Of WAXX or to view latest entries visit our Facebook page: facebook.com/WAXXunderwearUK.