Politicians overtake celebrities in style poll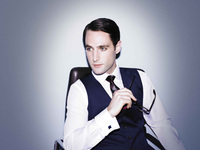 David Cameron, Barack Obama and Boris Johnson are the new unlikely fashion icons.
The trio were named the most iconic white shirt wearers of all time, in a poll by department store Debenhams, just as London Fashion Week kicks off.
The politicians soared above sexy and stylish white shirt wearers such as David Beckham, Jude Law and even James Bond himself, Daniel Craig.
However, Nick Clegg came last in the list of 20 celebrities; further signs of his wavering popularity.
Paul Baldwin, Director of Menswear Buying says; "We are very surprised to see the likes of Cameron and Boris overtaking Becks in the style stakes, however it is probably down to the fact they are rarely seen out of their trusty white shirts and party coloured ties."
"As their recent holiday wardrobe disasters showed, the classic white shirt is definitely a safer bet for them."
The research kicked off the launch of the Jeff Banks Definitive White Shirt Collection; eight shirts of different styles and detailing that are suitable for any man.
Baldwin continues; "The poll highlights the durability of the white shirt and that there is a style out there to suit every man. As you can see by the list of celebrities, they are all very different in style, shape and size."
Prince Harry took the number two spot, although many will now be more familiar with his recent Las Vegas attire.
It wasn't just the men that made it onto the list; Angelina Jolie's shirt and wellies look from Mr and Mrs Smith ranked highly, as did Julia Roberts' shopping on Rodeo drive look from Pretty Woman.
Baldwin continues; "The men's white shirt on a woman is an iconic, sexy look so it is no surprise that Roberts and Jolie made the cut."
The top 20 celebrities are as follows:
1. Barack Obama
2. Prince Harry
3. David Cameron
4. Boris Johnson
5. Matthew McConaughey, D&G advert
6. David Beckham
7. George Clooney, Oceans Eleven
8. Brad Pitt, Mr and Mrs Smith
9. Daniel Craig, Casino Royale
10. Johnny Depp, Pirates of the Caribbean
11. Colin Firth, Pride and Prejudice
12. Jude Law, Alfie
13. Julia Roberts, Pretty Woman
14. Christian Bale, Batman Begins
15. Will Smith, Men in Black
16. Angelina Jolie, Mr and Mrs Smith
17. Jon Hamm, Mad Men
18. Sir Trevor McDonald
19. Tom Cruise, Risky Business
20. Nick Clegg