Porsche race driver reunited with Grandfather's competition 911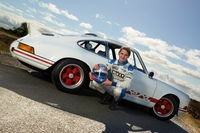 Thirty eight years after Jack Tordoff drove his Porsche 911 Carrera RS to third place in the Galway Rally, 2012 Carrera Cup driver and grandson Sam Tordoff got behind the wheel of his iconic car at Porsche specialist Autofarm. The drive marked the first time the younger Tordoff had ever seen the car and despite piloting his 450 bhp Porsche Cup Car for the past two years, it was also the first road Porsche he had ever tried.

Tordoff revelled in the chance to drive the rare car, one of just 17 right hand drive RS Lightweights built that celebrate a 40th anniversary of the model launch this year. "Though the Carrera RS is a world away from my Cup racing car, the lineage between the cars is evident in its responsiveness and driver-focussed approach," says Tordoff. "Knowing it's also the 911 in which my grandfather competed sweetened the experience."

Jack Tordoff, the founder of the Yorkshire JCT600 dealerships that continue to sell new Porsches today, sold the car in 1975 to Irish rally driver Ken Shields before Autofarm's Josh Sadler purchased it in 1984. For the next four years it was a familiar and successful circuit racer in Giroflex colours in the hands of Sadler and others including Tony Dron before finally being returned back to a road car in 1989. Carrera RS expert Autofarm has just sold the car but offered the younger Tordoff the chance to drive it before it left its Oxfordshire workshop.

A three time winner in 2012, Leeds based Tordoff heads into the next round of the Porsche Carrera Cup at Rockingham on the 22nd-23rd September looking to close the small gap to championship leader Michael Meadows. "It was a rare and privileged opportunity to drive the car, older competition cars have such an aura. I'm looking forward to swapping notes with my Grandfather," concludes Tordoff.