Polynesian paradise without breaking the bank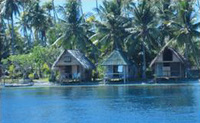 Experience the beauty, romance and culture of Tahiti and her islands through French Polynesia's best kept secret, family pensions.
There is a vast array of accommodation options throughout Tahiti and her islands, ranging from large hotels to secluded huts, but it is the family pensions and home-stays which offer the most authentic and adventurous Tahitian experience, whilst being extremely cost effective.
The commonly used Tah phrase ''haere mai'', meaning 'come to us' represents the famous Polynesian hospitality, which is demonstrated by the Tahitian people who choose to open up their homes and share their culture and lifestyle with visitors. Pick from over 1,000 accommodation options and 2,000 beds across home stays, small hotels and family pensions which are available throughout the five main Tahitian island groups.
Get back to basics and enjoy the simple way of life – from savouring postcard panoramic views, to casting a line from the doorstep or exploring remote motus. Then after exerting all energy, feast on a delicious picnic of fresh fish, local specialities and exotic fruit at a table set in the shallow waters, complete with circling reef sharks. Many of the pensions offer full-board making them an excellent way to experience the local cuisine. Sample the traditional dish 'Poisson Cru' (raw fish marinated in lime and coconut milk), followed by 'Poe', a delicious Tahitian desert combining banana, papaya, and vanilla topped with a rich coconut sauce.
Not only do pensions offer a way to experience local specialties but they are often located in quieter secluded sites, away from other visitors and attractions, offering an opportunity to become lost in the Tahitian world and culture. Tahiti and her islands serves up a truly rich Polynesian experience without breaking the bank.
For more information, rates and listings of family pensions visit haere-mai.pf.
For more information on Tahiti and her islands visit tahiti-tourisme.co.uk.