Mike Robinson and Isuzu create huntsman special pick-up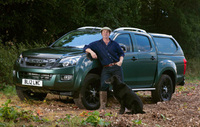 Celebrity TV chef and presenter, Mike Robinson, has taken delivery of a bespoke Isuzu D-Max pick-up, to equip him as the hunting season in England gets into full swing.

Mike Robinson is a keen huntsman of game and gatherer of wild food, and to ensure he has the best possible tools at his disposal during the short stalking season, he worked with Isuzu UK to select a number of special modifications for his new pick-up.

Selecting an all-new Isuzu D-Max to transport him around the fields will also help Mike minimise his impact on the surrounding environment. The Isuzu D-Max, with its highly-efficient 2.5-litre Euro 5-compliant twin-turbo diesel engine, delivers 163 PS and 400 Nm of torque, but equally importantly, emits only 194 g/km of CO2 and returns class-leading fuel economy of 38.2 mpg (combined).

To help Mike – one of the lead presenters on ITV's Countrywise Kitchen – make swift progress around the 20,000-acre estate he manages, his Isuzu D-Max rides on 17-inch matt-black alloy wheels, fitted with special 255/65R17 all-terrain tyres. To avoid unwanted glare in the field, Mike has had all of the vehicle's standard chrome-finished exterior parts wrapped in matt-black vinyl – including the front grille, door handles and rear bumper.

Based on a range-topping Isuzu D-Max 4x4 Utah double cab, Mike's model features a unique rubber tray set on the dashboard for holding his binoculars firmly in place – but still close at hand – when the terrain gets rough. Once he's identified his target, Mike can take his rifle from the secure gun box in the cabin, before resting the barrel of his gun on the specially-tailored rubber covers on the wing mirrors that provide greater stability and accuracy when taking aim.

For large kills, Mike's Isuzu D-Max is fitted with a unique load-bay drawer system, winch and ramp, to aid the loading of his quarry. To keep the payload secure and cool, it is protected by a ventilated Truckman Grand Hard Top.

Mike, who has had a number of previous Isuzu's including two Rodeos, commented: "For several years I've managed a country estate, keeping wildlife and game stocks controllable and sustainable. I needed a dependable workhorse pick-up and my previous Isuzu Rodeo proved incredibly robust, utterly reliable and virtually unstoppable off-road. The modifications made to my new Isuzu D-Max have all been carefully designed to make a real difference in the day-to-day life of a hardworking stalker. I can't wait to test its capabilities in the field."

William Brown, General Manager at Isuzu UK commented: "The new, higher specification of the Isuzu D-Max makes it the perfect choice for a keen stalker, like Mike, who needs the space, practicality and comfort a double cab model offers, as well as being highly efficient and hugely capable on-and off-road. Mike is an exceptional brand ambassador for Isuzu, and we're thrilled that he will use his new Isuzu D-Max during filming of the new series of Countrywise Kitchen. He knows what it means to work in the country, and needs and expects his equipment to work faultlessly, whatever the conditions – that's why he chose Isuzu."

The new Isuzu D-Max range includes single, extended (with rear-hinged side access panels) and double cab body configurations. Double cab models are available in four specifications: Isuzu D-Max, Eiger, Yukon and Utah. Prices start at £14,499 (CVOTR) for the entry-level Isuzu D-Max 4x2 single cab and rise to £21,499 (CVOTR) for top-of-the-range Isuzu D-Max Utah 4x4 double cab automatic. The Isuzu D-Max is the only pick-up in the UK tough enough to be covered by a five-year / 120,000-mile warranty.