e-NV200: on a charge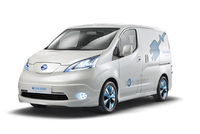 Combining the best of two multi-award winning vehicles - Nissan LEAF and Nissan NV200 - the innovative Nissan e-NV200 is set to cement the company's position as the global leader in zero-emission mobility when production starts in 2013 financial year.

Although still officially a concept vehicle, the e-NV200 panel van being given its world premiere at the Hanover Motor Show gives a clear indication of the distinctive style and, more significantly, the technical make-up of the final production vehicle.

Its sophisticated all-electric drivetrain is based on the advanced laminated lithium-ion battery and electric motor that powers Nissan LEAF, the world's best-selling electric vehicle in history.

As well as delivering a range and performance comparable to Nissan LEAF, it means e-NV200 operators will be able to recharge the battery of their vans to 80 per cent capacity in just 30 minutes thanks to its Quick Charge capability, thus ensuring minimal down time - vital for a working vehicle. It will also be much cheaper to operate with lower fuel costs and reduced regular maintenance.

What's more, e-NV200 will be able to harness the energy stored in its battery to power electric tools and equipment up to 6,000W... a suitably equipped e-NV200 could, for example, become a mobile restaurant at outdoor events, a mobile workshop, etc.

Thanks to clever packaging of the compact batteries under the load space floor - a location that also helps to lower the vehicle's centre of gravity - e-NV200 maintains exactly the same carrying capacity as the conventional NV200.

Despite its compact overall dimensions, e-NV200 will have a class leading and highly practical load volume of 4.2m3 with the capability of carrying two standard Euro pallets between the rear wheel arches while the 2m cargo length means it can carry 20 standard Euro boxes. Its modest width, however, will allow e-NV200 to squeeze through crowded city streets more easily.

Silent, zero-emission power is supplied by a lithium-ion battery made up of 48 compact modules and a highly responsive 80kW AC synchronous motor that generates 280Nm of torque. The motor delivers all that torque from a standstill, providing instant acceleration and smooth running.

"Zero-emission vehicles like Nissan LEAF are already playing an increasingly significant environmental role in our towns and cities.

"The arrival of a practical and, more to the point, realistic zero-emission delivery vehicle will not only improve the quality of urban life but thanks to low running costs will also help ease the economic burdens placed on companies," said Nissan Corporate Vice President Hideto Murakami, head of the Global LCV Business Unit.

Nissan's next zero-emission vehicle - the second of four promised by 2014 - has already proved its worth during real-world prototype testing. A small fleet of converted battery-powered NV200s has been loaned to globally recognised collection and delivery companies including the Japan Post Service and FedEx. These and other companies have been using the vehicles as part of their regular fleets in cities across Japan and Europe, including Yokohama and London.

The prototype testing, which started in 2011, will continue through 2013. "The feedback we have received already from drivers and operators using the vehicles as part of their everyday routine has already given us vital information which we will incorporate into the production version to ensure it meets, indeed exceeds, all their needs and requirements," said Hideto Murakami.

"Our on-going testing programme will build on this existing knowledge base and put the e-NV200 to the test in some of the world's most challenging city environments.

"The production e-NV200 will offer all the spaciousness, versatility and practicality of a traditionally-powered compact van, but with zero tailpipe emissions, near silent running and class-leading running costs," he added.

Its complete lack of emissions and low noise means it could be used for deliveries in central city locations - even inside shopping malls - and around the clock.

Thanks to having far fewer moving parts, a further benefit is the greatly reduced need for regular maintenance.

From the front, e-NV200 is distinctly different to the regular NV200, the design giving a clear EV family resemblance to Nissan LEAF with the charging point door at the front of the vehicle. Its badges will be blue accented while e-NV200's 'EV' face will be bracketed by LED running lights.

Inside, the cabin has a clean and modern EV identity with blue coloured accents and dedicated EV displays and dials. Advanced telematics, meanwhile, will allow more efficient usage of an electric van fleet for previously unrealised productivity.

As well as a panel van, e-NV200 will be available as a passenger-carrying combi and as the family-oriented seven seat Evalia.

"e-NV200 represents a bold and innovative addition to our commercial vehicle range, which is already one of the broadest of any manufacturer," said Hideto Murakami.

NV200

The award winning NV200 continues to be the compact van to beat. In the two years since it was voted International Van of the Year, it has proven itself to be the benchmark light van for businesses large and small. Innovative packaging, exemplary build quality and a host of thoughtful features have allowed NV200 to push the segment boundaries.

Since its launch at the end of 2009, more than 120,000 units have been delivered to customers in more than 40 countries. NV200 has recently been launched in Indonesia and Malaysia, and will be introduced soon to India and North America.

A rich mix of models, including half panel and combi versions as well as a conventional panel van, and an array of different door options with single or double sliding side openings and top hinged tailgate or split French doors at the rear, add to the versatility of the range.

Its popularity has meant that production at the Barcelona plant, which supplies all European markets, has increased dramatically. More than 21,000 examples were built there in 2011, representing a 66 per cent rise over 2010.

Year on year sales growth has seen NV200's segment penetration increase from 1.9 per cent in 2010 to 2.7 per cent in 2011, while unit sales in the 2012 financial year to date have risen by more than 17 per cent over the same period in 2011. This strong performance has contributed to the NV200 already passing the 100,000 sales mark globally.

Changes to the range since launch include the arrival of a more powerful diesel engine. The entry-level 66kW (90PS) 1.5 dCi turbodiesel has now been joined by a more powerful and flexible version of the eight-valve common-rail unit, developing 81kW (109PS) and 240Nm: peak torque is available from as low as 1,750 rpm.

This engine has a new fuel return rail and control unit for improved fuel efficiency, while injection pressure has been increased to 1,650 bar, and improved spark plug performance speeds up cold starts. It is fully Euro V compliant and drives the front wheels through a six-speed manual gearbox. CO2 emissions are just 139g/km.

A 1.6-litre petrol engine developing 79kW (107PS) and 153Nm of torque is also available.

Adding another dimension to the range is the arrival of two specialist conversions, also built in Barcelona, and covered by Nissan's comprehensive warranty. Between them, the refrigerated conversion and purpose designed crew cab model - the latter providing space for seats and tools - are expected to add around 800 sales per year.

"NV200 continues to set the standard in the compact LCV market. Its combination of practicality, low running costs and advanced technology is making it the van of choice for businesses across Europe, while the Combi and Evalia versions are proving extremely popular with larger families and those who need to move people," said Hideto Murakami.

"The arrival of two bespoke conversions, both backed by our full warranty, will broaden its appeal still further, while e-NV200 is set to revolutionise the LCV market," he added.