Nissan NV400 - Practicality, economy and choice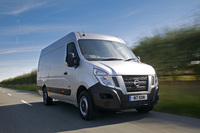 Nissan's bold plan to double its share of Europe's LCV market within three years has been given a boost by the arrival of NV400, the company's new heavy van.

Developed in cooperation with Alliance partner Renault, NV400 cannot be mistaken for anything other than a Nissan. Its distinctive 'face' was created at Nissan Design Europe (NDE) in Paddington and engineered by Nissan Technical Centre in Bedfordshire.

"The bold Nissan look helps us differentiate NV400 from its competitors and gives us a distinctive face in the market. With NV200 and now NV400, there is no doubt Nissan offers attractive functionality and great choice in the LCV market," said Sergio Alcaraz, Vice President of Nissan's, LCV Business Unit.

But there's much more to NV400 than the way it looks. It is one of the most versatile and practical heavy van ranges on the market with gross vehicle weights (GVW) ranging from 2.8t to 4.5t.

For the first time on a van, Nissan can offer the choice of front or rear-wheel drive versions. The NV400 also comes in three wheelbase versions, four different lengths, three different heights and with cargo volumes ranging from 8m3 to 17m3. There are three power options plus six-speed manual and robotised transmissions.

In addition there are many different bodywork options, all backed by the Nissan warranty. As well as factory-built panel vans and combis, there are crew vans, box-bodies, tippers and dropsides all built in-house. Nissan will also offer a chassis-cab for specialist body builders.

"NV400 is very versatile and offers a solution to each need in the heavy van sector," said Sergio Alcaraz. "It is much more than a replacement for Interstar and takes us into a much wider market segment thanks to the great breadth and depth of the range."

Front-wheel drive offers a lower kerb weight for improved payloads, a lower frame height and improved fuel economy. Rear-wheel drive offers greater choice for chassis cab conversions and thanks to its high rear axle capacity is better suited to medium duty applications. Rear-drive versions are available with single or twin rear wheels.

Power comes from a newly developed direct injection, four-cylinder, 16-valve turbodiesel engine. At 2.3-litres it is smaller than the Interstar's 2.5-dCi unit yet power outputs are the same - 100, 125 and 150 hp - and torque figures have improved to 285, 310 and 350 Nm respectively. All are Euro 5 compliant and enjoy lower running costs thanks to improved economy and to major service intervals which have been extended to 25,000 miles or every two years.

MacPherson strut-type independent suspension can be found at the front, while front-wheel drive versions have a single leaf spring at the rear. Rear-drive models have either a dual spring (single rear wheel) or triple leaf (double rear wheel).

Standard or optional equipment levels reflect passenger car levels and include air conditioning, parking sensors, cruise control with speed limiter, trip computer, Bluetooth mobile phone connectivity and USB/iPod playback through the sound system. A rear view parking camera is also optionally available to make parking manoeuvres as safe as possible.

Another innovative option is Nissan Connect by TomTom. As well as conventional mapping and route planning, owners can subscribe to TomTom's Live Service content which includes live HD Traffic updates, fixed and mobile speed camera warnings, weather forecasting and access to Google Local Search, a vast database which lists the most up-to-date contact information of millions of business and services.

The Nissan NV400 is on sale now priced from £18,995 ex VAT.