Sun, stargazing, snorkelling and skiing in Hawaii this winter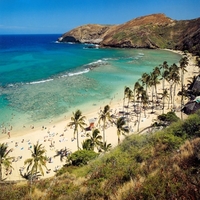 Its sunshine all the way – plus stargazing at one of the world's most renowned astronomical sites in the world, snorkelling in a partially-submerged volcanic crater and skiing on a mountain over 13,500 feet high – on a two-centre holiday this winter from US operator, Bon Voyage.
These 10-night holidays – combining five nights on Maui and five nights on The Big Island – cost from £1895 per person (twin share) inclusive of return Heathrow flights, island-to-island transfers and four-star room-only hotels.
The package also includes an evening star gazing excursion on top of Mauna Kea on Big Island (transport is by special all weather vehicle and arctic-style parkas are provided) and a half-day snorkelling session at the Molokini volcanic crater on Maui. In addition, guests also enjoy a half-day whale watching excursion by boat.
For those who fancy trying their hand at skiing, a full-day trip – with equipment hire, transportation by a 4WD shuttle and services of an experienced guide – costs from £450 per person.
For more information, visit bon-voyage.co.uk/spotlights.
Prices correct at time of publication.