New walking tours in Sydney's national parks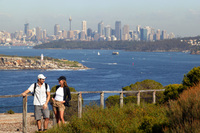 Sydney's stunning walking trails can be experienced for the first time on new guided walking tours designed to showcase the natural beauty of Australia's largest city.
Sydney Coast Walks, formerly known as Royal Coast Walks, has rebranded to recognise their expanded walking tour options, from Royal National Park hikes to include a newly launched range of Sydney Harbour National Park guided walks. It's the first time many of Sydney's renowned coastal walking trails have been included as dedicated walking tours, and include half day to two-day walks.
The newly launched walking tours are:
South Head (Watsons Bay) - Enjoy a scenic ferry ride to Watsons Bay for an easy two hour walk exploring the military and recreational history of South Head
North Head (Manly) - Discover the living history of North Head, a nature sanctuary located alongside the iconic and bustling Manly, with views to the city across Sydney Harbour.
Spit to Manly - Find out why the locals love Manly Scenic Walkway, discovering secluded Dobroyd Head and pockets of bushland to million dollar harbourside homes. Includes private water taxi from Circular Quay, returning on Manly ferry.
Spit to North Head via Q Station - Enjoy fine restaurant dining and unique hotel accommodation at Q Station to revive the senses during a two-day weekend escape walking from The Spit to Manly and exploring North Head Sanctuary
Founder Ian Wells says, "Most people don't realise there are walking trails all around Sydney's harbourfront. It's the best way to experience the city's natural beauty and a big surprise that it's so close to the city centre".
In the past 3.5 years, as walking tours have grown in popularity generally, Sydney Coast Walks has uniquely positioned itself as the experts, winning tourism awards at both local and regional level and being recognized at the 2011 NSW Tourism Awards. With its latest win for Eco Tourism at the 2012 Greater Sydney Tourism Awards, Sydney Coast Walks will again be finalists at this year's state awards (announced in November).
About Sydney Coast Walks
Founded in 2009, Sydney Coast Walks are the Sydney walking people. With some of Sydney's best natural beauty only accessible on foot, Sydney Coast Walks provides expertly guided half day, full day and overnight hiking adventures through Sydney Harbour and Royal National Parks, enabling guests to reconnect with nature in Australia's largest city.
For more information, visit sydneycoastwalks.com.au.