Shaken, not stirred: Celebrate a Bond £007 Martini month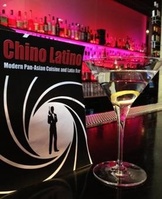 The three UK branches of Chino Latino - London, Leeds and Nottingham, are celebrating the latest James Bond "Skyfall" film release with a month-long martini cocktail promotion.
Throughout October, cocktail aficionados can enjoy a selection of the classic Bond Martinis at just £7 each.
The five martinis on offer include the infamous "Vesper" - which made its only actual appearance in Ian Fleming's Bond novel "Casino Royale". This Martini is named for Bond's first love - Vesper Lynd - and the cocktail, "shaken, not stirred", took on iconic status in Bond movie iconography, offering a twist on the better-known Gin Martini by including the use of Lillet, a French Vermouth made from a blend of wine, liqueurs, herbs and fruits.
The other martinis included in the promotion are:
Vesper Martini
Vodka/Gin Martini (Premium Spirits Will Be Charged A Premium!)
Cosmopolitan
Polish Martini
Manhattan
Make yours a Martini Month and enjoy Chino Latino £007 cocktails Bond-style...
Find out more on chinolatino.eu.