Be inspired by the romantic mood of Italy while making pasta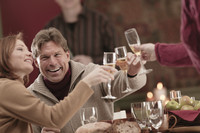 A battle of the sexes is on the cards at a pasta making workshop being staged on Sunday, October 21 by the country's largest socialising and dating club, Dinner Dates. Male and female members of Dinner Dates will be battling it out with dough and pastry board, as they attempt to produce pasta like mamma used to make at the Cantina del Ponte Italian restaurant at Butler's Wharf, London SE1.
With Italian murals and the rustic charm of Italy pervading every corner of the eatery, Dinner Dates members should be able to relax, chat to new friends and find socialising a pizza cake, but whether the ragazzi or the ragazze will prove best at their mission is yet to be determined!
Having tackled their pasta making challenges, attendees can dine on two dishes they've concocted, enjoy a dessert provided by the restaurant and wash everything down with a glass of vino.
With 23 years of creating events that encouraging mingling, mirth and merriment under its belt, Dinner Dates knows a thing or two about which venues to choose and what sorts of events to arrange, to make meeting new friends, or maybe a special someone, a much more likely proposition.
Turning to the romance-fuelled food of Italy is one way to get the heart racing and the Cantina del Ponte event is not the only Italian venue to be in the Dinner Dates events diary over the coming months. Other Italian venues visited this year include Tentazioni in Lloyds Wharf and MareMoto in Chelsea.
A few Italian arias will also be heard as members enjoy the antics of the Opera Singing Waiters in the Bel Canto restaurant at the Corus Hotel Hyde Park on October 11.
Dinner Dates' chief executive, Cynthia Spillman, says: "We love to embrace all sorts of culture and food through our vibrant events programme, but often the Italian-themed events are the most romance-fuelled. The pasta making workshop is one of our ways of showing that you do not need to be propping up a bar, or be at a party to meet new flame and that often, by not trying too hard and being yourself during an activity like pasta making, you can make much more meaningful friendships".
More details about Dinner Dates membership and special offers can be found at dinnerdates.com.