Luxe Hotel Palacio Astoreca opens in Valparaiso, Chile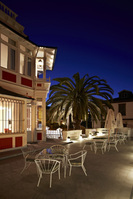 The Hotel Palacio Astoreca formally opened October 1, 2012, following a masterful two-year renovation of one of Valparaiso's most iconic national monuments, the Astoreca Palace, located in the heart of fashionable Cerro Alegre. The design-driven, 23-room hotel de charme offers luxe accommodations, a chic spa, a gourmet restaurant, superlative personalized service, and utterly breathtaking views of the city's "amphitheater" of eclectic urban landscapes and the Valparaiso Bay -- all within close distance of some of the city's best attractions.
The Hotel Palacio Astoreca occupies the interiors of a resplendent 1920s-era Victorian mansion that is characterized by the intricate details and ornamental decor of its interiors, and it is one of the few hotels in Chile that can claim national monument status. The hotel's exceptional amenities include the Alegre Restaurant, a Wine Cava, an library with an extensive multilingual collection, and a piano bar lounge, as well as original art by contemporary painters such as Ricardo Yrarrázaval and Frédéric Clot, and photography by locals artists Eric Rondepierre and Rodrigo Gómez Rovira, that make the hotel a living and breathing art piece.
Hotel rooms are individually sized and decorated, furnished with antiques from the Santiago and Valparaiso region that have been revamped with modern fabrics, and feature bed frames by artist Sebastian Yrarrázaval. Rooms boast original parquet floors, hand-painted ceramic tiles, and stylish wallpaper imported from Europe that contrasts strikingly with handcrafted pillows, rugs and blankets weaved by Andean artisans.
The hotel's on-site restaurant Alegre is led by Spaniard Sergio Barroso, a talented chef whose most recent experience includes stints at Ferran Adria's "El Bullí" and the Monte-Carlo Beach Hotel in Monaco. Alegre, which is open to the public, is already considered one of the Central Valley's best dining experiences, incorporating the bountiful and outstanding seafood and produce found locally in the V Region. Guests may select top Chilean, Argentinean, and French wines from an extensive list and even visit the hotel's Wine Cava to select their own.
The Hotel Palacio Astoreca offers a sophisticated and chic spa. Built of dark slate and featuring a steam bath, heated indoor pool, massage, and an indoor wood-burning hot tub backed by a two-story wall of lush hanging ivy. The Palacio Astoreca Spa will be the perfect place to unwind and rejuvenate following a day of wandering through Valparaiso's city streets and climbing its many hills.
Valparaiso, one of South America's most captivating cities, was designated a UNESCO World Heritage Site for its historical importance, and the city is exceptional testimony to the early phase of globalization in the 19th and early 20th century. Valparaiso's kaleidoscope of multicolored homes tumbling down steep cliffs and ravines, its port bars, warren of crooked streets and century-old funicular "street elevators," create an inspirational setting. The city is well-known for its bohemian flair and for having inspired generations of artists and writers including Nobel Laureate Pablo Neruda, who has a museum here. The Hotel Palacio Astoreca is located next to the Palacio Baburizza Fine Arts Museum and the Yugoslavo Promenade, both of which will be fully renovated by September 2012, as well as antique stores and artists' studios.
Owners Vincent Juillerat and Francisca Joannon, a Swiss-Chilean couple who divide their time between Paris, France, and Valparaiso, Chile, have beautifully fused an European and Chilean aesthetic with the guidance of acclaimed architects Mathias Klotz, Renzo Alvano, and Pablo Riquelme. With an investment of US $5 million, the Palacio Astoreca has recovered the style and elegance that the property had lost over time.
Rack rates for a standard double begin at USD $230, and USD $490 for a luxury suite with private terrace, and include a full breakfast, free WiFi, LCD satellite TVs, minibars, and spectacular views. For additional information and room rates, visit hotelpalacioastoreca.com.