Peugeot wins 'City Car Manufacturer of the Year' award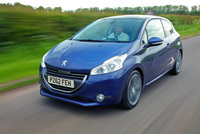 The GreenFleet Awards held at the Emirates Stadium in London on 11th October 2012, recognised the pioneering efforts of private and public sector fleet managers, vehicle manufacturers, suppliers and other organisations that strive to reduce the environmental impact of transport.

Peugeot won the highly-contested City Car Manufacturer of the Year award that saw it beat contenders from Fiat, Volkswagen and Mini. Peugeot was also specially 'commended' in the Fleet Car Manufacturer of the Year accolade, contested by Volvo, BMW and Mercedes-Benz.

"Peugeot has had an impressive year in 2012, with the introduction of some cracking new models, and none more so than the new 208. With every diesel model coming in at sub 99g/km, and even as low as 87g/km, it was a natural choice for the judges. Having used the model ourselves in the Fuel Efficient Driving Experience at the recent GreenFleet Scotland event, we know first-hand the kind of impressive MPG figures that are achievable too," said Colin Boyton, Marketing Manager for GreenFleet.

The Peugeot 208, launched in June, is lighter, smaller (on the outside), bigger (on the inside) and more aerodynamic than its predecessor (the Peugeot 207) and has already attracted over 15,000 orders.

Phil Robson, Peugeot Fleet and Used vehicle Director, said: "These awards salute our considerable efforts to provide ever enhanced products that respond to the growing demand for environmentally-able vehicles, and Peugeot has probably done more than most – with electric, Stop & Start, diesel-electric HYbrid4 and new small petrol engines. The GreenFleet award is another accolade that serves to show that the 208 is a car of special attributes."

With CO2 outputs from as low as 87g/km, the majority of diesels are equipped with Stop & Start System technology, a new low CO2 3-cylinder petrol engine and many other competitive product virtues, it is clearly a winning combination.

At a recent GreenFleet Scotland event held at the Royal Highland Centre, Edinburgh, eight identical Peugeot 208s were driven by 'eco-driving virgins' and representatives from local Councils over a 50-mile set urban route. Every car exceeded the Official Urban Drive Cycle 208 figure of 62.8mpg, with the winners Ian Dalgeish and Allan Kelley from East Lothian Council achieving 73.6mpg, with telematics performance and economy supervised by 'Drive from O2'.

The Peugeot 208 won the Best Supermini in the Auto Express New Car Awards in June 2012.