Bee keeping, bread baking and preserve making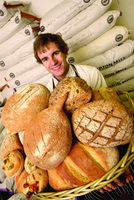 The award winning Bedruthan Steps, perched on a cliff top overlooking the golden sands of Mawgan Porth Beach is one of Cornwall's most established hotels. For 2013 the hotel has created a innovative programme of themed breaks which includes a selection of foodie courses that will have guests making their own bread, jams and honey in no time!
Bee Keeping
Get a little closer to nature and feel the buzz. With your own apiary, you can make your own honey or cultivate bees to pollinate your garden. Bedruthan's three-day beekeeping course, taught by expert apiarist Henry, is suitable for beginners and covers both traditional and modern methods. Henry will teach you how to handle bees safely, manage your own colony and extract honey and wax. You will visit a local apiary, handle live bees and learn to distinguish pollen from nectar and the queen from her workers and drones.
17th - 19th May & 4th - 6th October. Priced at £365pp for a two night full-board break.
Preserve Making
Learn to make the most of seasonal produce creating delicious preserves from foraged ingredients. Spend a day enjoying all Bedruthan's fantastic facilities - the spa, the pools, the beach. On your second day, you'll learn a range of techniques for jams, jellies, curds, cordials and squashes, spiced and flavoured vinegars, bottled fruits and tomatoes. Bedruthan cover the equipment, techniques and what's in season when.
Finish with a tasting session and enjoy the fruits of your labours! 21st - 23rd June. Priced at £280pp for a two night full-board break.
Bread Making with Baker Tom Weekend
"There's something really satisfying about being up to your elbows in flour," says artisan bread maker Tom Hazzledine aka Baker Tom. "Kneading away, putting all that energy into creating something nourishing."
Learn to knead your way to the perfect loaf. Baker Tom will teach you the art of making bagels, olive and tomato bread, soda bread, focaccia, sourdough, rye bread and more. 22nd - 24th March & 18th - 20th October. Priced at £350pp for a two night full-board break.
For more information, visit bedruthan.com/breaks.
All prices subject to availability.