'Hello Fresh' goes nuts for National Nut Day with Nice 'n' Nutty recipe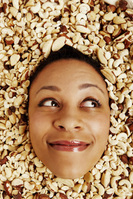 Hello Fresh, the new service which delivers recipes and exact ingredients direct to your door, has announced it is going truly nuts on National Nut Day - October 22nd 2012 - with a specially tailored nutty recipe for its customers.
The recipe, "Nice 'n' Nutty Persian Pasta with Spiced Chickpeas", has been created by Head Chef Patrick Drake who was trained at Heston Blumenthal's restaurant The Fat Duck. Those wanting to sample the nutty recipe should visit hellofresh.co.uk and order their box by midnight on Wednesday 17th October.
The company, which delivers recipes and exact quantities of high quality fresh produce across the UK, is making the switch to continue its pledge to supply food which benefits the environment.
Head Chef Patrick Drake commented: "Food shouldn't just be to fill a hungry stomach; it should be something you're passionate about, want to share and want to talk about. Here at Hello Fresh, our customers don't just love cooking, they love discovering so it's great we can educate them about National Nut Day through our special nutty recipe."
National Nut Day in the UK is promoted by Liberation Foods CIC, the pioneering farmer-owned Fairtrade nut company. October 22nd is well-established as National Nut Day in the USA and the organisers are making sure Britain 'goes nuts' in the same way!
This year's focus is on switching to nuts to help the environment. If we in the UK eat less meat and highly processed veggie foods - our planet will benefit. This will keep a lid on greenhouse gasses and won't use up our valuable land resources.
For people who already eat plenty of meat and dairy products such as most people in rich countries, nuts and 'nutty' legumes - like Brazil nuts, cashews, peanuts and walnuts - are a good nutritional alternative to meat says Dr Donal Murphy-Bokern, independent agri-environmental scientist and author of several studies on food system impacts.
"One of the keys to sustaining our planet is for those of us in the richer half of the world to switch some meat consumption to relatively unprocessed plant-based products such as nuts," says Dr Murphy-Bokern.
"For every calorie consumed, the greenhouse gas emissions from the production of the meat and dairy component of our diets is nearly four times that of plant-based components."
National Nut Day celebrates all that is great about eating nuts. As well as being a delicious snack and cooking ingredient, nuts are:
Highly nutritious - a source of vital fatty acids, omega fats, protein and many vitamins and minerals.
Good for the environment - switching our main source of protein from meat to nuts whenever we can helps to reduce carbon emissions. In addition the trade in Brazil nuts helps to preserve the Amazon rainforest.
Good for the soil - legumes such as peanuts bring vital nitrogen to replenish the soil as they grow.
Good for our health - the UK Government's Chief Medical Officer says 18,000 premature deaths from heart disease would be avoided every year if we cut our meat consumption by half. Nuts are a good value form of protein which can help us do this.
Available as Fairtrade! UK nut lovers can now buy Fairtrade Brazil nuts, cashews, peanuts, walnuts and almonds in many supermarkets including Tesco, Sainsbury's, Morrisons and Waitrose plus other outlets. This means the farmers and gatherers are protected by the guaranteed fair deal which comes with Fairtrade.
See the UK National Nut Day website for more information nationalnutday.com.
National Nut Day is supported by The Vegetarian Society, The Vegan Society, Sustain - the alliance for better food and farming, Hello Fresh, and more.