Add some super powers to your New Year detox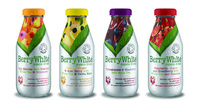 After all the inevitable annual Christmas indulgence, BerryWhite organic soft drinks are set to be a firm favourite during that much needed New Year detox with its newly launched soft drinks packed full of exotic superfruits and high quality natural ingredients.
Inspired by all things good and providing a healthy juice option that doesn't compromise on flavour, the BerryWhite range comprises of four equally delicious variants, all combining white tea with superfruits; renowned for their high nutritional value and high anti-oxidant capacity. One of the flavours combines Echinacea which is great for the immune system, perfect for all those winter coughs and colds. They contain no artificial preservatives, additives or added sugar.
The four flavours available are:
Goji Berries with Peaches, White Tea and Echinacea
Cranberry, Guava and Elderberry with White Tea and Guarana
Pomegranate and Blueberry with White Tea
Lemon, Ginger and Acai Berry with White Tea and Yerba Mate
Further cementing its 'tastes good, does good' motto, BerryWhite will be giving a donation from every bottle sold to the charity Global Angels, pledging a minimum 10% of profits. Founded by Molly Bedingfield, mother of Natasha and Daniel, Global Angels is the 100% charity - meaning 100% of public donations go straight to providing water, food, education, homes and medical care for disadvantaged people. So you can not only feel good about what you are drinking, but know you are doing your little bit to help too.
With a distinctly stylish and vibrant look, BerryWhite is a must for any fridge. Each perfectly sized glass bottle has a colour coded cap to distinguish between the unique superfruit combinations and to add to the 'feel good feeling' all products carry the Soil Association logo.
BerryWhite is available from Ocado, Amazon and Planet Organic. RRP £1.69. For more information visit berrywhite.com.