Vive la Republic!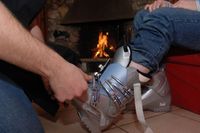 If you really love your skiing or snowboarding, you deserve to enjoy the best snow, the best-tended runs and only the highest quality equipment. That's why Rental Republic promises to put your best feet forward.
Time off work booked? Check. Dream resort booked? Check. The very best ski and boarding equipment ready and waiting for you to tackle that exhilarating first run?
Well, let's see. First, there's the horrible expense of buying your new skis or board and boots. Not to mention the hassle and cost of getting your whole kit and caboodle to the airport before queuing, again, to check it in to oversized luggage. The costs imposed by many airlines to carry kit bought or rented in the UK. And let's not forget an entire flight spent praying your pride and joy lands with you in one piece, before finally the endless, hair-pulling wait at the luggage carousel. Last but not least who really wants to trudge off to queue in a shop?
Well, now you can forget all of that unnecessary hassle and enjoy a trouble-free holiday with some UPS style efficiency featuring the very latest, highest quality equipment delivered straight to your chalet door and on to your feet.
Thanks to Rental Republic, your very own personal ski and snowboard butlers, you can book your skis, snowboard and boots online from the comfort of your own armchair. That means when you get to your dream destination, you can simply sit back and relax, completely worry-free, as your personal technician delivers everything direct to you, letting you know when he twenty minutes away by SMS.
Rental Republic technicians travel with a wide range of boots for all shapes and sizes and they will happily take time to help you find your best match, as you take your pick from all the latest brands and models available. You can even select from top of the range gear – Rental Republic is the only hire group you can hire LINE skis from!
All of Rental Republic's technicians have been trained in foot morphology, binding adjustment and ski or board repair by Anything Technical UK Ltd. This means you can rely on the highest levels of customer service. Your butler is not a sales technician – this is a dedicated expert who wants to make sure you have a winter sports holiday to remember!
For added peace of mind, once your technician has fitted your preferred skis or snowboard and boots in the comfort of your own chalet, they will remain on call throughout your stay in the resort, just in case they're needed – that's on call throughout the day and well into the evening, with a guaranteed one-hour response time!
What's more, with prices starting from only £10 per day for skis and boots, £7 per day for children's equipment and £15 for snowboard hire plus there are discounts of up to 60% available at certain periods of the season across the different categories of equipment levels – it's not only more convenient but great value. In fact, Rental Republic guarantees to match its competitors like for like.
The bespoke service covers a wide range of popular resorts, including Sainte Foy, La Plagne, Les Arcs, La Rosiere, Tignes and Val D'Isere. If you are staying in another resort nearby and would like to use Rental Republic, just send an email and Rental Republic will do its utmost to help.
Simply go online with your holiday dates and where you are staying and Rental Republic does the rest. Rental Republic is constantly available via its 'chat now button' to offer help and advice year-round from trained technicians. Its website also guides you through every stage of the hire process to ensure you receive the ski and snowboard equipment best suited to your needs. For more information, visit rentalrepublic.co.uk.