Yan To the UK's most innovative womenswear designer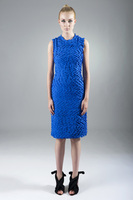 In a corner of English countryside, an untrained designer has presented 3 entirely new methods of dress construction including the dresses that look better on a fuller figured woman, a world first.
Yan To, the pioneer in the use of elastics in dressmaking, is the UK's most innovative womenswear designer. This claim is backed up by three entirely new techniques in dress construction, which have been created in the brand's six season existence. It is this desire for innovation that is at the core of the brand's DNA.
Yan To perceives fashion as a means to make a woman feel as desirable and empowered as she would wish to be. This lead to his interest with body-con, which became an obsession and lead to what he now calls his "new thinking".
The traditional take on body-con involves compression or illusion; techniques, which tend to only draw attention and even exaggerate the areas, which she would, chose to hide. There are instances of this in the media every day, often with disastrous results.
It has become almost a ritual for women who want to look slimmer to reach for compression underwear, but how sexy do these functional undergarments make them feel?
Two novel solutions by Yan To solve the problems that traditional body-con and shape-wear have not.
Yan To's random weaving and texturing technique naturally compresses the body and enhances a woman's figure. While the irregular nature of the weave disguises unwanted lumps and bumps, the looser top layers of the weave create texture, promoting a slimmer silhouette.
New for SS13 is an even more striking technique which works against the wearer's physique to create texture and movement. The more curves a woman has, the more stunning the results.
So if you are wondering if this means that these dresses look more spectacular on a fuller figured woman than a typical fashion waif, you would be absolutely correct.
As with all his work, Yan To, invites the woman to wear underwear that she really wants to wear as the dresses do all the work.
Yan To declares that these are the best body-con dresses ever created on the simple premise that they are the only dresses that actually work.
For more information, visit yan-to.com.