Tenerife's Siam Park, rated the best water park in Europe and USA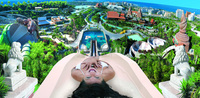 Europe's biggest aquatic adventure land, Siam Park, has received the highest award of water parks in Europe and the USA. Kirmes & Park Revue, the leading press publication evaluating European theme parks, honoured the well-known park in Tenerife with the "European Star Award 2012." Furthermore, one of the park's most popular attractions, the 'Dragon', has also been awarded as "European Best Water Slide."
The Thai-themed water park continues to be recognised worldwide. Besides the award given by the Germany-based publication, it was also honoured this year by the Worldwide Association of Water parks (WWA) because of its consistent leadership and contribution to the water parks industry. With all these accolades, Siam Park, located near Playa de Las Américas, strengthens its position not only as a major holiday attraction in Tenerife but also now as the best opportunity for water fun in Europe and the USA.
Summer 2012 saw the launch of two new attractions following a €2.5 billion investment. The first one, 'Kinnaree', is an incredible 200-metre-long slide with high speeds showcasing how it feels to be caught in a tornado wave. The second attraction, 'Sawasdee' ("welcome" in Thai), is a new children's area full of amusement for the youngest members of the family that includes a miniature replica of the award-winning 'Dragon.' Other attractions of the park include the 'Wave Palace', a pool that produces waves of 42 different types, sizes and shapes; the kids' area 'Lost City' and 'Siam Beach', the whitest sandy beach in the Canary Islands.
Just four hours away from the UK and with direct flights to the island, Tenerife offers an endless list of things to enjoy which have undoubtedly made the island a holiday favourite for all Britons. Siam Park, which has received more than 3 million visitors during its four years of existence, is without any doubt the perfect paradise for kids and families.
An unbeatable climate, fully-equipped beaches, excellent hotel and leisure facilities have positioned Tenerife as a perfect winter sun destination. Siam Park opens daily this winter period from 10am to 5pm and offers a free shuttle service from Los Cristianos, Playa de las Américas and Costa Adeje.
For general tourism information on Tenerife, visit webtenerife.co.uk
For further details on Siam Park and to book tickets, visit siampark.net/en/