Saab Parts UK helps prepare Saab owners for winter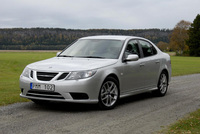 With winter lurking just around the corner, Saab Parts UK is launching a seasonal Winter Check and Top Up offer for all Saab owners. Available through Saab's national network of 87 Authorised Service Centres until 31st March 2013, the Winter Check involves a full inspection and top up of all essential fluids and tyre pressures, reducing the chance of incident and breakdown during the coming months, all for a fixed price of only £19.99*.

Recognising vehicles perform differently in cold weather, and taking action early is good preventative care, Saab Parts UK is offering all Saab Service Club members booking a Winter Check, a Winter Aftercare kit completely free of charge.

The winter kit comprises of a car shampoo, screen wash, de-icer and a window scraper and can be claimed by simply registering your Saab on the Saab Service Club web-site (saabserviceclub.co.uk) and downloading the corresponding Winter Aftercare kit voucher.

Saab Service Club was set up to offer all Saab owners exclusive benefits and savings through service and parts offers for maintaining their vehicle through the national network of Saab Service Centres. Promoted within the network and featured on the Saab Parts UK homepage, Service Club has already successfully attracted over 20,000 members, and the plan with Winter Check and future offers is to continue to offer increased customer value and grow the family of members.

David Leighton, Business Development Manager at Saab Parts UK, said: "Following the success of the Saab Service Club to date, we wanted to ensure our owners are prepared before Winter arrives and equip them with a free Winter care pack as a thank you for their loyalty."

"The good news is this is not a blink and you'll miss it offer as the Saab Service Centre network will continue to offer the Winter Check and top up through until 31st March 2012".

To find your nearest Saab Service Centre simply visit saab.co.uk and select the Locator function at the top right hand side of the homepage.