Saab still active in the UK supporting owners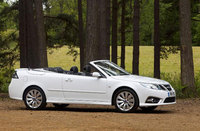 Over 65 years Saabs have become synonymous with stylish aesthetics and robust build quality. Perfecting the art of turbocharging to optimise both performance and economy, a number of Saabs have developed an enthusiastic following, like the 900T16S. Some have even transcended into icons for the brand, like the 9-3 Convertible.

Originally introduced in 1986, Saab offered a real alternative for the discerning buyer looking for a premium convertible. Comprehensively equipped and powered by efficient 2.0-litre turbocharged engines and latterly strong diesels, the capacity and functionality of the full 4-seater soft top won over many hearts and minds. And with supply of some 35,000 units to the UK market over 25 years in production, the 9-3 Convertible remains relatively exclusive.

As the first convertible car to achieve the coveted 5 star NCAP rating, the 9-3 Convertible is something of a secret amongst Saab enthusiasts and not widely acknowledged by the market at large. Offering motoring style in abundance, coupled with low running costs, the Saab Convertible is a real used car bargain.

With Spring just around the corner, it will soon be time for all those Convertibles to take to the roads. And to help prepare your car for the season ahead, Saab Parts UK is pleased to announce a Spring Service Offer for all Saabs, including a free MoT in March, for £299. Available exclusively at Authorised Saab Service Centres and using trained technicians to fit genuine Saab parts provides further peace of mind from a 2 year manufacturer's warranty.

Even though new cars are no longer produced, many of the UK's Authorised Saab Service Centres are continuing to sell used Saabs, representing some of the best value vehicles in the used marketplace. Saab Parts UK Ltd provides a national used Saab locator on its website (saab.co.uk) and is currently listing over 170 used Saabs, including more than 30 Convertibles, starting from around £5,000.

The most recently produced MY11 and MY12 models offer well equipped SE and Aero specifications, with a choice of petrol turbo or diesel twin-turbo engines in both 6 speed manual and automatic forms.

Most importantly, whichever Saab you own or are interested in, maintenance and on-going parts supply is assured.

Saab Parts UK has successfully re-established the parts supply and distribution network to ensure the 200,000+ Saabs in the UK can be well maintained with genuine parts. Stocking a portfolio of over 44,000 lines, Saab Parts offers a comprehensive range of genuine parts for both current and older models, all backed by a 2 year warranty.

In addition, Saab Parts UK is offering all Saab owners direct access to the most competitive servicing, maintenance and replacement parts offers by registering your vehicle in the Saab Service Club. Completely free of charge, this beneficial facility offering up to 10% off service and parts can be accessed by joining on-line at saabserviceclub.co.uk.