New lingerie website to push up sales to on trend women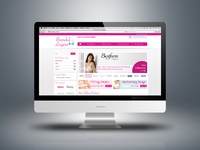 A new lingerie website is already appealing to younger and on-trend women, pushing up sales and exuding bra quality thanks to the online retailing and design skills of Lancashire-based digital agency, NuBlue.
NuBlue interpreted the brief of its client, Woods of Morecambe, a high quality lingerie retailer with a long heritage and broad product range of lingerie, nightwear and other clothing ranges and recognised the client's need to appeal to what it calls a younger demo-traffic.
The brief was to create a secure shopping site for Woods' top ten brands for 20 and 30-something women, which seamlessly connected with its existing Magento online retail platform.
The result is a fresh and appealing site, which engages the on-trend female lingerie buyer while recognising the strengths of the Woods brand. It carries details of the ten brands, which in total have over 50 bra ranges to choose from and put in the cart, covering everything from camisole to balconette and gel bra to basque.
The design makes bra selection simplicity itself, with multiple search options to utilise, whether the buyer wants bridal wear or work bras, glamour lingerie or particular colours and fabrics.
The new lingerie site can be found at branded-lingerie.co.uk and sits alongside the existing Woods of Morecambe website at woods-online.co.uk.
Speaking on behalf of Woods of Morecambe, Nick Race says: "NuBlue are a pleasure to deal with. We wanted a new lingerie website to highlight our younger offering for online purchasers. NuBlue proposed a design, which we immediately loved and, from there. the building was seamless. All that was left was to connect to our existing Magento platform. NuBlue soon understood how the middleware works and the first order went through without a problem. I can only thank them for delivering exactly what we wanted".
NuBlue's managing director, Michael Ashworth, says: "This website is just one of many high impact and dynamic retail sites NuBlue has built. Our ethos is to bring all of that experience to the table, while ensuring we create a design and approach totally focused on the individual client. We always get to know the brand inside out and then devise a style to complement that brand identity. We are delighted this approach has met with such praise from our client".
More details about NuBlue and its web and digital work can be found at nublue.co.uk.