The best quiet beach destinations for older generations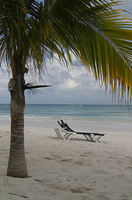 Becoming part of "the older generation" opens up more time for leisure and sheer self-indulgence. Many older people use the time wisely by travelling more and taking longer breaks. As far as beach destinations are concerned, idyllic scenery and somewhere that is close to amenities but not too crowded, makes a perfect combination. Insure For All have compiled a list of the top 5 quiet beach destinations for older generations.
Studland Bay – Dorset
Studland Bay near Swanage in Dorset is an ideal location for people who want to take a quiet break and yet still be in a location that provides interest and good amenities. Run by the National Trust, the beach itself is a perfect strip of dune-backed sand, circling around a scenic bay and looking across towards Bournemouth and Poole. There is a car park with a level boardwalk for accessing the beach, and café facilities for a drink and snack. Studland itself is a quaint seaside village with cottages a pub and a shop and some hotels that have restaurants and tea rooms open to the public. A few miles down the coast is Swanage which is a typical seaside town with seafront pedestrian shopping streets, restaurants, takeaways and loads of traditional pubs. The area also has some fantastic walking spots along the chalk downs of the Purbeck hills and a historic steam railway that has been reopened in recent years.
Santanyi - Mallorca
Mallorca is not known as a quiet holiday destination and yet in the off season period, many older people head there for extended winter breaks in the sun. Avoiding the heating costs accumulated during a British winter can be cost effective. Mallorca has over 120 beaches and coves dotted along its coastline and there are many quiet spots to be found within easy reach of the main tourist areas. An area that older visitors will find appealing is Cala Mandrago near Santanyi. It typifies holiday resorts of old and has very natural beach with white sand and clear blue water. Situated in a National Park with dunes and wetlands playing host to many different bird species, it will never get developed in the way some parts of Mallorca have.
Greek Islands – Tilos
The Greek Islands have always been a favourite beach destination. Older people looking for one of the quieter islands should check out Tilos. One of the Dodecanese Greek Islands, it is geographically located between Kos and Rhodes. Tilos is quite a small and remote island that still retains its authentic and picturesque character. Visitors will find that the inhabitants are welcoming and that there are enough facilities and points of interest to make for a fantastic holiday. Accommodation right next to the beach can be found near the main port and harbour area. With medieval castles, a Byzantine monastery and a historic village that has been a declared cultural monument, you will find much of interest. One must-visit is the cave full of paleontological remains including the famous dwarf elephant fossilised bones.
Turkey - Torba
30 minutes away from the airport in Bodrum, is the quiet resort of Torba on the Bodrum Peninsula, A stunning and scenic upmarket fishing village, it has a lovely stretch of beach where you can walk along the promenade. At night, Torba Bay sparkles with candlelight from the upmarket and yet inexpensive restaurants dotted around the bay. The area is a gastronomic delight with freshly caught fish, meze and a variety of Mediterranean food available. In addition to being a quiet resort, the fact that inexpensive minibuses run into Bodrum every 10 minutes, means that you can enjoy a more cosmopolitan day out if the mood takes you. These minibuses known as dolmus will drop you off at other areas and villages around the peninsula too. Surrounded by lush hills and pine forests, Torba provides some lovely walking territory to explore and makes a great destination for a quiet beach holiday.
Cape Panwa – Thailand
Older visitors looking for a quiet destination in Thailand should look around the the surrounding areas of Phuket and in particular Cape Panwa. Panwa beach is a south westerly facing beach in an area that has not succumbed to the intensive development experienced by some other local areas. It is a haven for those who seek peace and quiet and yet is within easy reach of Phuket. The beach has limited facilities but is dotted with traditional fishermen's huts and a beach bar. Be sure to have a look at the amazing 360 degree views of Southern Phuket from Cape Panwa viewpoint, and perhaps enjoy a meal in one of the restaurants there.