Best beach clubs in Saint Tropez & the Cote d'Azur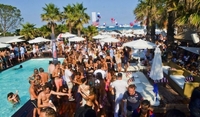 It's outrageously easy to spend quite a lot of time (and quite a lot of money) in these places. As you drink another cocktail and contemplate whether to read your book, have a nap in the warm sun or dive off the pontoon into the cool blue water, it becomes harder and harder to contemplate leaving. But that's ok, because you don't have to leave when the sun goes down.
Most beach clubs are open long into the evenings in summer, transforming themselves into cocktail lounges where you can watch the Mediterranean evening fade gently into night. The lanterns go on, and you can dine at waterfront tables looking out over the silvery sea, super yachts rocking gently at anchor.
And then the party starts, if it hasn't already. Many of the clubs have DJ's and live music, from the uber-hip Life Club at Monaco to the relaxed party vibe of Moorea Beach in Juan les Pins.
Each Riviera beach club has its differences, both in atmosphere and budget, so here's our pick of the best beach clubs along the Cote d'Azur…for all sorts of reasons.
Antibes
Royal Beach: There is actually only one beach club in Antibes proper, but that's just fine because Royal Beach is a fantastic little spot. Set on a wooden deck looking out towards the grand villas of Cap d'Antibes, this beach club has both a soft-sand beach and a pontoon to choose between for sunning yourself. It also has an excellent restaurant that is open into the long summer nights, serving fresh, sophisticated Italian food that doesn't break the bank. Don't get me wrong, this is not a cheap place either, but you can definitely experience the Mediterranean beach club vibe here without having to take out a second mortgage, and the service is very good. There's also a small lounge area where you can just drop in for sunset drinks-this is the ultimate place in Antibes to catch up with friends on a long summer evening as the sun goes down. It's all too easy to become a regular here.
Cannes
Baoli Beach is a really good option if you're going to spend some time in Cannes. It's a lot of fun, with DJ's and a great crowd making the most of the summer, day and night. This really puts the 'club' in beach club, with a party atmosphere under the palms. It's a good place for celebrity-spotting too, but be aware, the prices do reflect this.
C Beach is just a few steps away from the Palais des Festivals , with this prime location it is one of the most popular private beaches frequented by locals, tourists and celebs.
Cap d'Ail
For some of the best beach clubs, head just a little further up the coast, where you'll find the spectacular Mala Beach, which has been voted the best beach on the Riviera.
At the Reserve de la Mala, you find cool white décor and sophistication, very much the domain of 'the Monaco set'. Laze about drinking cocktails on plush white daybeds fringed by gauze curtains, or eat at their fabulous restaurant. This is refined living, and you may find yourself getting dangerously accustomed to this way of life.
Eden: Further up the same beach you'll find something very different. Eden is a rustic, relaxed and all round good fun beach club, which has a great massage tent and live music, including reggae. There's something about St Bart's in this little gem, and the overly pretentious need not apply.
Cap d'Antibes
Plage Keller: Further around Cap D'Antibes you'll find Plage Keller on the gloriously pretty Plage de Garoupe. Soft white sands and a long wooden jetty covered in yellow deckchairs- this place is very good indeed, and offers a great lunch spot after the absolutely unmissable cliff walk around the Cap, which takes you around to the spectacular Millionaire's Bay. The food at Plage Keller here is outstanding, even if it costs a pretty penny.
La Joliette : In contrast, next door, La Joliette is one of the coast's cheapest beach clubs. There's a reason for that, in that it's not really a club at all, with only a few deckchairs out the front of its rustic café restaurant with plastic chairs and tables. However, you have a white sand beach to swim at only yards away and the cafe is wide open to the cool afternoon breeze and the sounds of a Mediterranean summer. This is how to do beach clubs on the cheap, and a good place to take the kids.
Cap Ferrat
Paloma Beach: It's hard not to have a little skip in your heart when you walk into this place. Not only because it is beautiful, which it undoubtedly is, but because it is an institution with history and heart. It is named after Paloma Picasso, as the great artist spent a lot of time time here with his family. The rustic building has been a beach club since 1948, and has seen generations of the same families return year after year. Of all clubs on the Riviera, this one, with its odd mix of the laid back and the very sophisticated, and with its staggering view of the Monagesque cliffs rising sheer across the bay, has the most character and must get my vote as the most memorable beach club experience on the Riviera.
Juan Les Pins
With its strip of beach clubs and summertime vibe, Juan les Pins is heaving in the summer, and it's easy to see why.
Moorea Beach: If you're out for a party in the sun, then this is almost certainly your best option. Full of yacht crew in the spring and autumn, this place has a reputation for some crazy antics, particularly on Sunday afternoons. Lie on a deckchair relaxing with a cocktail or join in on the mayhem- it's a great day out for those who are young at heart.
Helios is a more sophisticated option, with a chic feel and an excellent menu. It's the ideal place to settle back in a comfy chair with a magnum of rose and some friends to watch the sunset. Le Colombier, the club next door that is also part of the Helios Hotel, offers a family friendly and somewhat cheaper beach club experience.
Monaco
Life Club: Just next to the famous Fairmont Monte Carlo Hotel is one of the hippest clubs of Monaco. A beach club during the day, with its own floating deck set up like the deck of a superyacht, it transforms into a beautiful spot for a cocktail at sunset and then belts on with DJ's until dawn. This place is damned special. It even has its own little jetty, in case you were planning to swan in from your yacht. There's little reason to ever want to leave actually, although with prices like these, your wallet may well march you home long before you're ready.
La Note Bleue: If you want something a little more restrained and enjoy jazz music, then this stunning, sophisticated beach club is for you. White deckchairs sit close to the sea, while daybeds with wispy curtains line the almost garden-like setting, and stylish dining tables sit shaded under graceful sweeps of canvas. At night, lanterns burn golden as you dine under the stars, and jazz musicians play to an appreciative crowd. The décor is beautifully executed, and this venue could risk being pretentious, but there is a real heart and love for music in this place. Again, it is far from cheap, but you should expect nothing less in Monaco.
Nice
Stretched along the palm-lined Promenade des Anglais, Nice has a great mix of beach clubs, which are generally a lot more affordable and less pretentious than those of nearby Monaco.
Hi Club: A family-friendly beach club, this colourful eco spa and beach club has just the right mix of fun and indulgence. It even has a kids' play area, meaning this is the top pick along the coast for families. The colour scheme is fresh and bright with aquamarine and lime green, and the menu also reflects the love of freshness and vibrant colours. The eco-philosophy even extends to running yoga classes.
Anjuna is an absolute treasure, with tropical décor and dining tables right down on the rocky sand. Social, relaxed party vibes, and a great place to watch the fireworks festivals that light up the night during summer. Very good service from friendly staff.
Castel: Relaxed, sophisticated and special, this is a local's favourite in Nice. Wile away the hours on a deckchair drinking rose and cocktails, or kick back in a comfy cane armchair with your feet resting cool on the smooth beach stones. Its beach club accompanied by a very good restaurant which offers splendid views stretching down the coast and out across the Mediterranean.
Saint Tropez
Club 55: Pampelonne Beach offers one of the greatest stretches of beach clubs in the world, with Club 55 being the most famous of them all. It was used in a scene of the famous Bridgette Bardot film 'And then God Created Woman', and it has been wildly popular with the jet set ever since. It is quite splendidly expensive, and the food isn't that much chop compared to what you can get elsewhere, but none of the A-listers who come here seem to really care.
Along this stretch there's also another Moorea Beach Club, which shares the more relaxed vibe of its sister in JLP, while Le Jumeaux has a kid's playground and is open year-round. Thai food and massages are on offer at La Cabane Bambou, while the Aqua Club offers good food in a laid back atmosphere often missing in glammed-up Saint Tropez.
Nikki Beach: It would be remiss of me not to mention one of the most famous beach clubs in the world, although, oddly enough, this one's not actually on the beach. Nikki Beach is for those who want to be part of the glamour and glitz of life on the Cote d'Azur. It's achingly stylish, with the requisite plush daybeds and pool, but it also loves a party, with big-name DJ's spinning chilled day beats and dance music throughout the summer months.
All in all, there are a great many beach clubs to choose from. At least for now. A French law that prohibits commercial buildings on public beaches threatens the future of these glamorous French institutions. Many clubs along the Riviera are being served demolition notices for when their leases run out, and nobody really knows what the future holds. So find that deckchair, order your magnum of rose and lie back, for the experience is set to get more rare, and inevitably more expensive, in the future.
For more information, seesttropez.com.