Steamer Trading cookshop opens the doors to its online store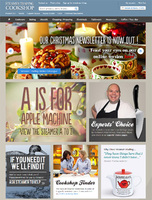 Steamer Trading, the leading independent cookware shop, has opened the virtual doors to its online store. Food-lovers can now head to steamer.co.uk and purchase everything from cake pop moulds to asparagus steamers to berry pickers, from exciting brands including Le Creuset, KitchenAid and Joseph Joseph.
Offline, Steamer has 28 stores in cities from Chester to Brighton, and is much-loved by customers who value the expertise and knowledge of store staff and the unique range of quality kitchenware in-stock.
Following customer demand for a web presence, the family-run retailer has worked hard to bring its expertise online; creating detailed buyer's guides which answer virtually every kitchenware-related question, from 'which knife should I buy?' to 'do I need to season my frying pan?' and teaming up with some the UK's top food industry experts, including Michelin-starred chefs, Phil Howard, Tom Kerridge and Russell Brown, and much-loved potter Emma Bridgewater, for trusted product recommendations.
As part of the site launch, and to celebrate its expertise, Steamer has created a unique A-Z of cookware, which explains everything from an avocado masher, to a duck press, to a zabaglione pan. The alphabet can be found on-site, as well as on Pinterest (pinterest.com/steamercookshop/), where Pinners can also view favourite recipes that require the use of each item.
Ben Phillips, Managing Director, says: "We're thrilled to finally have Steamer Trading online. We're so much more than a cookware shop and I truly feel that the site will be a place where food lovers come for inspiration and advice, as well as to purchase their favourite products."
Visit steamer.co.uk for kitchen inspiration and quality purchases.