Intrepid to run special tour to see Rwandan gorilla-naming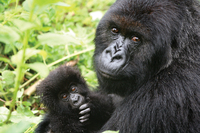 Intrepid Travel has launched its 2013 Africa & Middle East programme with two new comfort-standard itineraries in Jordan, and plans to run a special departure of its Gorilla, Chimps & Game Parks tour in June so that travellers can experience an annual Rwandan mountain gorilla-naming ceremony.
The new Jordan Experience (eight days from £1,045) combines exhilarating adventure by day with comfortable accommodation by night, as it explores the colourful capital of Amman, the intricate mosaics of Madaba, the mineral-rich waters of the Dead Sea, the ancient, rose-hued city of Petra – one of the Seven Wonders of the World – and embarks on a thrilling 4WD safari in Wadi Rum.
For those wishing to spend longer discovering the Middle East, Intrepid's new Wonders of Egypt & Jordan (19 days from £2,130) adds a healthy selection of iconic Egyptian sights, including the Pyramids of Giza, the Sphinx, the Valley of the Kings, the Catacombs of Kom ash-Shuqqafa and a three-night cruise on the River Nile.
Another highlight of Intrepid's 2013 Africa programme is a special departure of its Gorilla, Chimps & Game Parks tour (16 days from approximately £1,705) which will take place in June to allow travellers to experience the Kwita Izina, an annual Rwandan naming ceremony for new-born mountain gorillas. A critically-endangered species, the survival of mountain gorillas depends on close monitoring and conservation. Just eight people are permitted to track each gorilla group per day and can spend only one hour viewing them.
Intrepid's range of tours in Africa and the Middle East also includes the Serengeti Trail (eight days from approximately £841), which was recently named 'Most Amazing Tour in Africa'. With superlative wildlife viewing in both the Serengeti National Park and Tanzania's spectacular Ngorongoro Crater, travellers also camp beneath the stars next to Lake Victoria and experience the charm and buzz of Nairobi.
For more information, visit intrepidtravel.com.