Celebs go BearFaced for Children in Need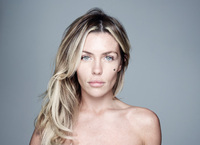 Along with a host of internationally renowned celebrities, BBC Children in Need is excited to launch its first ever 'BearFaced Day' campaign on Friday November 9th, which encourages women across the UK to go without make up to help raise money for disadvantaged children and young people across the UK.
A host of sensational celebrities have gone 'BearFaced' in support of the campaign by taking part in a make-up free photo shoot by top photographer Rankin. Celebrities include models and television personalities Heidi Klum, Jodie Kidd and Abbey Clancy; media personality Louise Redknapp; TV presenters Caroline Flack and Julia Bradbury; journalist and current affairs presenter Sian Williams; and world-renowned singer Lulu.
'BBC Children in Need are thrilled to launch our first ever BearFaced campaign. Not only is this a lovely campaign for women across the UK to take part in and have fun with, but a campaign which we hope will go on to raise money for children and young people in the UK who really do need our help' says Sarah Monteith, Director of Marketing and Fundraising BBC Children in Need.
Julia Bradbury
"Embracing the unexpected is something I do regularly with my job - from shoots across the country to adventures in far-flung destinations, so I when I heard about the BBC Children in Need BearFaced campaign, I thought why not? It was very refreshing not to wear make-up for a photo I know will be seen by quite a few people ....and hopefully it will encourage women to do the same on the day and raise much deserved funds. Be bear faced and proud ladies."
Heidi Klum
"I am so proud to be taking part in this year's BBC Children in Need BearFaced campaign. Having worked in the fashion industry for a number of years, I am a firm believer of encouraging women's empowerment, and what a better way to do so than supporting such a fantastic charity."
Caroline Flack
"I was honoured to be asked to get involved in supporting BBC Children In Need's BearFaced campaign. While I was initially apprehensive to bare all at the shoot it was a great experience. I hope everyone digs deep this year to support this incredible charity."
Sian Williams
"Make-up artists have used their skill to make me presentable to read the television news for the past fifteen years. Getting involved with Children in Need's BearFaced Campaign was great fun and I was in safe hands with the photo-shoot. And this is what a 47 year old mother of four looks like without the powder and paint."
Lulu
'Today, beauty comes in all shapes, sizes and ages so I am proud to dare to bare to help raise money for the amazing BBC Children in Need's BearFaced Day campaign!'
Louise Redknapp
"The work BBC Children in Need carry out is so vital and so I was really pleased to be involved in the BearFaced Day campaign. Being able to encourage women to be empowered and confident is something I am so passionate about. Going BearFaced is a really simple way to raise money for a great cause."
Abbey Clancy
"I love BBC Children in Need and was so happy to go BearFaced and lend my support to this year's campaign. I hope women all across the UK will go BearFaced on November the 9th and help BBC Children in Need break another record this year!"
Jodie Kidd
"When I heard that Rankin was going to be behind the lens at the BBC Children in Need BareFaced campaign, I couldn't have been more thrilled. This is such a brilliant campaign that really will help change young lives and as a Mum I was thrilled to be a part of it. I hope the UK's women will be inspired to be brave and to be BearFaced as every penny donated to BBC Children in Need will go straight to a child who needs it most"
BBC Children in Need's BearFaced Day is another fun, simple way that people can get involved with this year's Campaign and help raise as much money as possible. You can simply ask friends, family and colleagues to sponsor you or you can show you're part of the tribe by putting your own take on Pudsey's pawprint on your face - a "beauty spot"- like paw in eyeliner, a Pudsey pawprint press-on tattoo, or even diamante spots!
For more information about the Campaign and how you can get involved, visit bbc.co.uk/Pudsey.
From the 5th November, you can also buy exclusive Pudsey Pawprint temporary Tattoos from your local Post Office or from the Post Office online store to show your support of the campaign. A Pawprint will cost you just 50p, and our fantastic friends at the Post Office are generously donating all proceeds from the sale of this product less VAT (42p) to BBC Children in Need.
The BBC Children in Need Appeal 2011 raised a record breaking £46 million and this year we hope to break the record again!