Chemical-free wrinkle reduction with Frownies Facial Patches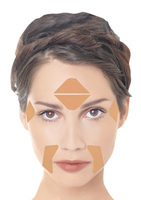 Frownies wrinkle reducing products have been associated with beauty and Hollywood for nearly 120 years classic icon beauties like Olivia de Havilland, and stars like Rene Russo, Raquel Welch have referred to Frownies as their beauty obsession.
Frownies Facial Patches are a natural chemical-free skin care product that forms a splint holding the visible layer of skin smooth and flat overnight while the skin cells reposition themselves to support natural, smooth, healthy-looking skin.
Frownies Forehead & Between Eyes patch is very popular to remove the scowl and frown lines, while the Frownies Corner of Eyes and Mouth Patch is used for the crows feet and marionette lines around the mouth. Continual repetitive motions such as frowning, squinting and smiling cause wrinkle damage to facial tissue supporting the epidermis. Over time, facial wrinkle damage deepens and facial cells slow down production of elastin and collagen, making it easier for facial muscles to press skin together. Cells in other areas build up, causing heavy facial sagging and deep wrinkles.
Frownies anti-aging facial pads address these problems because they train muscles by forming a splint. This holds facial muscles smooth and flat overnight while skin cells reposition themselves.
Continual use of Frownies facial pads is key to long-lasting wrinkle reduction. BOTOX injections are not a long-term wrinkle reduction solution.
You don't have to live with deep facial lines or painful BOTOX injections. Frownies anti-aging facial pads diminish visible signs of aging effectively and naturally. Priced at only £18.50 a box (4-8 weeks supply)
For more information, visit frownies.co.uk.