Frugal on fuel and a comfortable cab - the DAF 105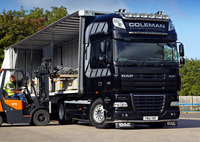 With a year's experience under their belt since buying their first DAF XF105 and with four now in the fleet, the verdict of Staffordshire haulier Coleman International is that this is truck that's frugal on fuel and brimming with driver comfort features.

The first of the four is in the hands of Pete Davies who has notched up 140,000 kilometres and visited over a dozen countries across Europe in the last 12 months. Throughout that time Pete has carefully recorded fuel usage and found that the 105 has returned an average fuel consumption of 9.6 mpg (3.4 km/litre). Figures logged during a recent round trip to France showed that figure rise to an even more money-saving level of 10.7 mpg (3.78 km/litre).

On top of that Pete enjoys the comfort provided by the big DAF's Super Space cab. "I've found it one if the most comfortable cabs I've had the pleasure of living in," he says. "When I'm on the road it offers great all round visibility and an excellent driving position. When sleeping in the cab the structure and size of the extra comfort bed ensures that I always get a good nights rest and the high capacity fridge also makes life a lot easier.

"Whether driving on the autoroutes in France or the national roads and mountains in Spain, I've found this truck very good indeed, especially with the 385/65/22.5 tyres on the front. Overall I'm very impressed with the XF 105 - it's a strong, reliable, comfortable and easy to drive truck."

Coleman International's four DAFs are the two-axle FT model and run at 40 tonnes gross weight with both curtainsiders and flats. Loads carried range from parts for the automotive industry to building products and with return loads collected throughout the UK and mainland Europe the trucks are fully laden for most of the time.

Power is from the 12.9 litre DAF MX engine rated at 510 bhp (375 kW), which at 40 tonnes gvw delivers a comfortable 12.75 bhp/tonne of power to weight. Good driveline matching that includes a 12-speed manual gearbox and the use of a 2.8:1 ratio rear axle combine to achieve the exceptional fuel figures.

Image is important to Coleman International and it keeps its 14 vehicle fleet in immaculate condition. The DAFs are in a distinctive black livery, which along with Skylights fared into the roofline, air horns, a roof mounted lighting bar and under bumper lights, makes them real head turners.

Nick Coleman, who started the business 15 years ago, says that the DAFs present a very good professional image to customers. "At the end of the day they're a tool to be worked with," he says. "And when they're proving so fuel efficient and my drivers like them so much, that's a winning combination that means we get higher productivity, safer driving and a better result on the bottom line!"

The trucks were supplied by DAF dealer Imperial Commercials of Derby who will provide ongoing parts and warranty support. Inspections and maintenance are carried out in Coleman International's own well-equipped workshop at their Burton-on-Trent base.