John Pearce takes new DAFs as it marks 40 years in business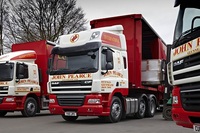 Well known South Wales haulier John Pearce Glynneath Limited has taken delivery of pair of DAF CF85 tractors with one carrying the unique registration plate Y40 JPG to mark the company's 40th anniversary.

Since John Pearce started the business in 1973 it has grown into one of the leading family run haulage firms in Wales. Four decades of sustained growth has seen the current fleet reach 35 trucks and 70 trailers and the company become a member of The Pallet Network, for which it covers key areas of the Swansea and Cardiff postcodes. It has also long been active in industry matters through its membership of both the Road Haulage Association and the Freight Transport Association.

The new trucks are DAF's award-winning CF85 mid-lift axle FTG model plated for 44 tonnes. These have been comprehensively specified with the generously proportioned Space Cab offering a comfortable working and living environment. Ample power along with good fuel efficiency is provided by the 12.9 litre MX engine rated at 460 bhp.

In line with company policy the AS-tronic 12-speed automated transmission has been specified to achieve more consistent fuel consumption across the fleet. Specification of the MX engine brake also helps to reduce driver fatigue and adds to safety by enabling better control of speed on steep descents as well as resulting in less wear on the service brakes.

With drivers averaging three nights a week sleeping in the cab their comfort has been assured by DAF's 'extra comfort' mattress and there's ample storage space for their personal gear. The air-suspended driver seat is fitted with a seat belt and the hands-free 'phone kit allows safe use of the phone at all times.

The company has its base at Glynneath on the A465 'Heads of the Valley' road and just 15 minutes from the M4. From here it serves around 250 customers including a number of blue chip companies producing a wide range of products from automotive components and paint, to chemicals, packaging, furniture and foodstuffs.

Clive Davies, managing director, says: "We are a very customer focussed company and make use of the latest technology to ensure that we give our clients a high standard of service. This includes fitting all our vehicles with tracking devices and using the Roadrunner EDI system to enable customers both to book consignments electronically and to track and trace those consignments themselves.

"But this technology needs committed people and it's our drivers, workshop and office staff, some of whom have been with us for over 20 years, that are the real key to our success.

"We've run DAFs for many years and these latest vehicles, along with an 18 tonner we also recently put into service, meet our requirements very well. Drivers like them and find them comfortable to drive and sleep in. And I like them because they're reliable and fuel efficient and present a good image to our customers."

The company maintains its vehicles in its own well-equipped workshop at its purpose-built Glynneath base. Parts support is provided by DAF dealer Watts Truck & Van of Swansea by way of an imprest stock held at Glynneath. Watts also supplied the three new trucks.

"It's an ideal arrangement for us," says Clive Davies. "We always have what we need on the shelf in our workshop and simply order up items as we use them with delivery the same or next day from Watts. And when the trucks are out on the road anywhere in the UK we get the same consistently high level of service from the DAF network through their DAFAid roadside assistance service."

As it heads towards its half century the company remains firmly in family hands. Both John Pearce and his wife Joyce continue to play a role, although their workload is now much reduced. Day to day management is provided by their son-in-law Clive Davies as managing director and by their daughter Hayley, who is Clive's wife and also a director.