New DAFs are helping keep the nation healthy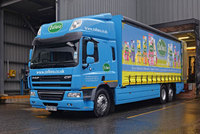 First class back-up from their local dealer was a key factor in the decision by Yorkshire pharmaceutical company Thornton & Ross to put a pair of DAF CF rigids into service.

The trucks are being used by the 90 year old Huddersfield company to distribute its range of well known pharmacy brands that include Setlers, Hedrin, Covonia cough medicine, and Zoflora, the UK's leading disinfectant. Deliveries are being made direct to high street chemists, pharmaceutical wholesalers and supermarket RDCs throughout the UK.

An 18 tonne two-axle CF65 with a boxvan body is being used mainly for multi-drop work direct to high street pharmacies and smaller wholesalers. The body, by Micra of Wakefield, has sliding side doors to make manual offloading safer from either side when making drops in congested town centres.

The second truck is a 26 tonne FAR CF75 6x2 three-axle model which is on bulk deliveries into larger wholesalers and the distribution centres of the company's national chain store and supermarket customers. It features a lifting tag axle that can be used to improve traction in slippery conditions as well as reducing tyre wear when running empty. This truck has a curtainsider body also by Micra.

Each of the trucks is covered by a six year Repair & Maintenance contract with work being undertaken at weekends by the supplying dealer, F&G Commercials, to ensure full availability throughout the working week.

"This is a very convenient and flexible arrangement for us," says Distribution Manager Rob Henderson. "It means that we can plan our runs with confidence knowing that we can get the routine safety inspections and servicing carried out at times to suit us. I'm very pleased with the after-sales back up that we are getting from F&G Commercials and it's helpful that they too are located in Huddersfield."

Both trucks feature the DAF Space cab, which gets used two or three nights a week on the longer runs. "Our drivers have commented on the marked improvement that these new DAFs offer in terms of cab comfort, and on the comprehensive specification of the sleeper cab, which includes air conditioning, a refrigerator and a high quality radio and CD player," says Rob Henderson. "They also like the comfortable driving position and the specification of an automated transmission which improves both driveability and safety," he adds.

The DAFs have plenty of power to cope easily with the hilly terrain around their Huddersfield base and to ensure good journey times. This also helps fuel efficiency, which is further enhanced by a full air management kit.

A 6.7 litre PACCAR GR engine rated at 250 bhp and with a torque output of 950 Nm powers the 18 tonner whilst the larger FR engine producing 310 bhp and 1,275 Nm of torque is fitted in the 26 tonner. Both engines comply with Euro 5 and EEV emission standards through the use of a high-pressure common rail injection system and SCR technology.