Now you can tour around Malaysia on a bicycle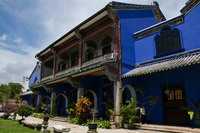 Tourism Malaysia has developed 87 cycling packages throughout the country, affording visitors the opportunity to explore the country at their leisure and a "live like locals" experience. Touring by bicycle allows visitors to explore the beauties, sights and sounds of the Malaysian countryside taking as many stops as they like along the route. As a result, they can discover points of interest, taste local delicacies and meet local people in a way that would not be possible with a traditional bus tour. Discover Malaysia by bicycle from just £45 per person, see below for more details.
There are several pre-organised tours that follow a set itinerary and offer visitors a guided exploration of some of Malaysia's most well-known and historic sites. The 'Tour of Delights' offers visitors the chance to explore Penang in North-West Malaysia, one of the most developed, ethnically diverse and thriving tourist areas. Over two days and one night the tour covers a total distance of 6.07km over a predominantly flat course that is relatively easy for most visitors. Friendly Penang motorists politely give way to cyclists, allowing visitors to explore a total of 20 points of interest such as the Clan Jetties of Penang, the traditional Chinese fishing settlements, and the UNESCO World Heritage Site, Cheong Fatt Tze Mansion in just over 8 hours.
The two-day, one-night 'Tour of Heritage' allows visitors to explore Ipoh, the capital city of Perak State, by both van and bicycle. The first leg is a half-day Ipoh city Tour by van, with the second leg covering 8.41km by bicycle, taking just over two hours and covering ten sites.
Malaysia Airlines fly daily from London Heathrow to Kuala Lumpur International Airport with Visa's purchased on arrival for British passport holders. Year round events include the Royal Langkawi International Regatta in January, the Petronas Malaysian Grand Prix in March, the Malaysia International Shoe Festival in April, Colours of Malaysia Cultural Festival in May, Malaysia's Summer Contemporary Arts Tourism Festival, Malaysia Annual International Gourmet Festival in October and the Summer and End of Year Mega Sales Carnivals with many other notable events throughout the year. Malaysia has a tropical climate and is a very welcoming multi-cultural society home to some of the best spa resorts in the world. Malaysian cuisine is as diverse as the nation itself, fusing the culinary traditions and flavours of Malay, Chinese, Indian, Arabian and European cooking.
For more information, visit tourism.gov.my.