United States oldest men's clothing retailer celebrates links with Scotland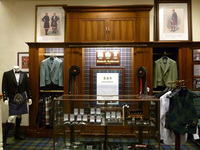 America's oldest men's clothing retailer chain, Brooks Brothers, has celebrated its relationship with Scotland with the design of a brand new Brooks Brother's Signature Tartan.
The tartan was to be officially launched at a VIP reception earlier this month at its flagship Madison Avenue store in New York, but was cancelled at the last minute following the effects of Hurricane Sandy.
A number of Scottish mills were involved in the creation of the new tartan collection alongside the Scottish Tartans Authority and Brooks Brothers design team. Scottish Enterprise and Scottish Development International played a key role in supporting the initiative and assisting Brooks Brothers to achieve their objectives.
Brooks Brothers senior vice president, production & technical services, Joe Dixon, said: "Brooks Brothers is proud to celebrate our heritage with Scotland. It is testament to the creativity, quality and technical skills of Scotland that we continue to buy year on year. Our customers are extremely discerning and demand that we seek out the finest knitwear and fabrics for them. Scotland has continually delivered on this promise.
"The support we have received from Scottish Enterprise and Scottish Development International in making connections with Scottish suppliers has been instrumental and paramount to bringing this project to completion."
Royal Warrant kilt makers, Edinburgh-based Kinloch Anderson, was one of the Scottish textile companies which supported the creation of this new tartan. The company has now partnered with Brooks Brothers to launch its first ever Highland Dress Store at the prestigious Madison Avenue store, and discussions are taking place with a view to rolling the concept out to other major US and worldwide stores in the future.
Chief executive of Kinloch Anderson, John Kinloch Anderson, said: "Our company is proud to be involved and honoured to be invited to provide Brooks Brothers brand new Highland Dress Store. Scotland is home to some of the finest fabrics in the world and along with the other Scottish suppliers we are delighted to see our products represented so well in New York and look forward to a long relationship with Brooks Brothers as this concept is extended."
Head of textiles at Scottish Enterprise, Cathy Black, added: "We are very proud of our vibrant and diverse textiles sector in Scotland and together with our international team at Scottish Development International, we support companies to access opportunities in key markets such as the USA. Exporting plays a key role in the industry and it's with partnerships such as that with Brooks Brothers, which will help us achieve our growth in this area.
"Our distinguished Scottish heritage and experience undoubtedly opened the doors for us with this opportunity, but it's our world class reputation for high quality products and design excellence that secured the business."
Woven fabrics including tartan, knitwear, leather and accessories account for around 50% of the £950 million that textiles currently contributes to the Scottish economy each year. Its quality, diversity and design excellence contributes to the £295 million generated through exporting activities.
By 2016, the sector aims to increase its exporting activities by 50%, a key element of the sector's strategy, and a topic which will be high on the agenda at the industry's annual conference today, 15 November.
Over 100 representatives from the sector will gather in Glasgow to hear from guest speakers including Giorgio Villa, of SGV technico in Milan, Italy, Steve Harvey of Transcal, John Lupton of Scott & Fyfe and Helen Palmer of WGSN on the benefits of collaboration, innovation and entering new markets both at home and overseas.
Speaking as she prepared to address the Scottish Textiles Industry Conference dinner, Fiona Hyslop, Cabinet Secretary for Culture and External Affairs, said: "The Scottish textiles industry is world renowned for quality and excellence, and a global ambassador for Scotland's rich culture and heritage. The sector has a proven track record for doing business across the world, supporting economic growth through its trade with global markets.
"By registering an official tartan, Brooks Brothers have demonstrated their commitment to strengthening its links with Scotland's textiles industry. It is a celebration of our innovative partnership, which already delivers $6 million dollars to Scotland's economy through orders alone."
To hear more Scottish export success stories or to find out how SE & SDI can help with your international trade and investment plans, visit sdi.co.uk/exportweek or follow the news using #scottishexports.