Opening of new Rubondo Island Camp in Tanzania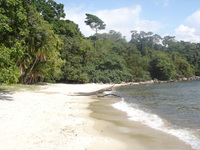 Opening on December 15th 2012, Rubondo Island Camp will be the only camp on Rubondo Island in Lake Victoria, Tanzania. With an area of 456 km2 it is the largest Island National Park in Africa and has laid unexplored for decades.
With forest eco-systems increasingly scarce in equatorial Africa and across the world, Asilia is very proud to be able to work with Tanzania National Parks and other partners to develop Rubondo Island into a thriving and lasting conservation area - protecting wildlife and habitat, and contributing to the economic development of the region.
A short flight from the Serengeti National Park, the island is the epitome of peace and tranquility. The island has no human inhabitants and 80% is covered with a pristine sub-tropical forest. Elephant and giraffe are dwarfed by ancient trees, and wild chimpanzees inhabit the untouched forests. In the shadow lurk bushbuck and genet, and the elusive sitatunga hides in the papyrus swamps. Crocodile lie in wait along the shores and hippo crash through the shallows.
Nile Perch in excess of 100 kilograms call these waters home, and over 200 bird species thrive in this rich natural habitat. This is virgin paradise, uninhabited for decades.
This is where the wild things are, and we are the only guests here.
A unique forest and lake experience of walking, boating, game drives, trekking through wild chimpanzee territory, gaining insight from the chimpanzee researchers, catch and release fishing, swimming, and simply relaxing awaits the discerning adventure traveller. The small and exclusive camp is being constructed using local materials to blend in with the island's natural vegetation. The 8 luxury cottages will sit in the shade of the forest canopy just 60 metres from the lake shore. 3 spacious cottages will be ready for our 'soft opening' in December 2012 to stand alongside the 5 luxury tents under thatch. During the camp closure in April/May the tents will be replaced by larger cottages and the camp will be completely ready by June 2013.
For more information, visit rubondoislandcampproject.com.
Expert Africa are offering 3 nights at Rubondo Island Camp and 3 nights at Asilia's sister property, Dunia Camp in the Serengeti, from £3,991 per person sharing.
Includes: international flights with Kenya Airways, all internal flights and transfers, most activities and drinks.
To book, visit expertafrica.com.