It's all about the jig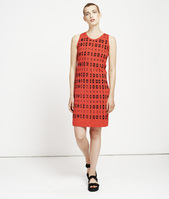 With it's distinct signature clean silhouettes and an inherent integrity - each piece is impeccably crafted from the finest materials and approached from a form and function design standpoint - Riyka continuously redefines urban style and are becoming renowned and revered for it.
For SS13 Riyka tells us "it's all about the jig", which is fitting as the brands aim is to conjure the dynamic feeling that the Mods felt whilst listening to R&B and blues records way-back then. And this we can see. Once again it's through the music that the designer always finds herself coming back to Africa.
So we see divine dresses with graphic colour pops. The red day-dress is a winner and captures the beauty of the brands first-time use of retro print. Modern trapeze style dresses have a girlish feel and are comfortable cover-ups for wandering around streets on warm spring days.
This season the brand is very much inspired by the kitsch futuristic themes of the post-modern design and architecture Memphis Group that boldly emerged in the 1980's with it's geometric form and pop-artsy colours. Riyka plays perfectly the Memphis trend of combining black and white with candy tones and primary colors. The whimsical interplay of primary coloured panels are also reminiscent of the designer's childhood days of sitting on her bedroom floor playing with LEGO men.
Unisex graphic tees, envious blouses with fine detail and boyfriend-style shirts in denim look sharp thrown on with signature graphic leggings that add a contemporary punch to any wardrobe.
For more information, visit riyka.com.