Escape winter at the Amieira Marina in Portugal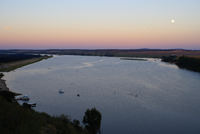 In the lesser-known Alentejo region of Portugal the Amieira Marina houseboat company sits on the shores of the glistening Alqueva Lake, Europe's largest reservoir. Famous for its rich vineyards and vast green landscapes, the Alentejo is a haven for those wishing to escape the harsh British winter with the Amieira Marina offering a relaxing holiday for all ages.
Whether looking for an alternative escape or a Christmas gift for a loved one, an Amieira Marina winter holiday combines comfortable temperatures of 10-15 degrees in November and December with a quirky Christmas or New Year to remember. Holiday makers can create their own itinerary encompassing cultural visits and outdoor activities with plenty of time to chill out on their own private houseboat.
A number of quaint local villages are located along the lake's shore ready for guests to moor up and explore on foot or by bicycle. Monsaraz, Estrela and Mourão invite visitors to learn about the region's rich cultural heritage through tasting traditional cuisine, meeting the charming locals and discovering some of Portugal's most ancient churches, castles and megalithic monuments. Other activities available include fishing, sailing, cycling as well as a range of specialised experiences such as wine tasting, horse riding, star-gazing, quad biking and walking trails.
Further afield from the shores of the Alqueva Lake is the beautiful city of Évora, a UNESCO World Heritage Site. The city has a large number of historical sites dating back to the medieval period where visitors can explore the stunning cathedral and meander through cobbled streets and Moorish arcades. A charismatic central square is popular with locals and features small shops, cafes and restaurants. A visit to Évora creates a great twin centre city and sailing trip when combined with a holiday at the Amieira Marina and both the city and the marina can be easily reached within a short two hour drive from Lisbon.
So for something a bit different head to the Amieira Marina to enjoy a warmer climate this winter with a two-night weekend break for two starting from 817€ (£660) over the Christmas break (18th December 2012 to 1st January 2013). Price includes boat rental, boat insurance, gas and technical assistance making an Amieira Marina holiday the ideal Christmas escape!
For more information on houseboat holidays at the Amieira Marina, visit amieiramarina.com.