Escape the winter gloom with a picnic in paradise!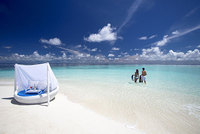 As the days become shorter, and the summer sunshine fades in the UK, warmer climes beckon; why not indulge in a picnic on a secluded sandbank, in the Maldives, surrounded by shimmering turquoise waters, not in the rain, on your own private sun-soaked beach?
Treat yourself to an unforgettable picnic and dine on the sandbanks beneath leaning palm trees or on your own private island… With a range of tasty delicacies, you're sure to experience a picnic like no other!
Guests can select from a range of delectable options, from charcuterie platters, refreshing gazpacho, crisp vegetable rice paper rolls, gourmet sandwiches, hand-made Sushi, to a selection of tropical fruits, or for a luxury touch, chilled champagne and fresh oysters; combined with a stunning scenery to ensure a truly perfect picnic.
Velassaru, Maldives
Idyllic location, picturesque surroundings and culinary delights – sounds perfect, right? Sail across the Indian Ocean on a traditional Maldivian boat, Dhoni, to a secluded sandbank. Arrive in awe and be greeted with a luxurious hamper for you and your loved one to enjoy. Total privacy is yours, as you can feel like Robinson Crusoe (with many luxury touches) and enjoy endless views of the sparkling waters and stunning ventures below the waves.
For more information visit – velassaru.com/private-dining
Price strart from: US $245.00 per person
Kuramathi, Maldives
kuramathi.com
Dive in and enjoy! Snorkelling in crystal-clear waters and back on land, a freshly cooked, private BBQ – what more could you want? Before you dive into the exotic turquoise waters, enjoy a selection of culinary delights prepared by our chefs beachside for your delectation. Once you are fully satiated, embark on an underwater adventure and discover nature's beauty beneath the azure waves. A perfect combination which can be enjoyed every Tuesday from 12:00 till 15:00.
For more information visit – kuramathi.com/recreation/excursions.html
Price: US $70.00 per person
Kurumba, Maldives
Venture on a 45-minute traditional Dhoni trip to a stunning secluded Maldivian sandbank, surrounded by the turquoise Indian Ocean and lined with a reef housing a myriad of tropical fish, this idyllic setting is the perfect place to relax in total seclusion, delight in a selection of fine foods and revel in the exploration of the pristine sea life of the surrounding reef.
The Sandbank Picnic will be prepared and served for guests to enjoy with a variety of selected beverages on Monday's and Thursday's, from 10:15 till 16:00.
For more information visit – kurumba.com/maldives-excursions
Price: US $85.00 per adult
US $23.50 per child (2-11 years)
US $42.50 per child (12-17 years)
Maafushivaru, Maldives
Embark on a voyage of discovery and take a boat trip along with a picnic basket filled with specially selected treats to enjoy whilst sailing on the lush waters around Maafushivaru. Take a break and immerse yourself into the cool turquoise depths of the Indian Ocean and see nature's beauty beneath you. Daily morning and afternoon trips are from 09:30 to 11:30 and again from 14:00 to 16:30.
For those who prefer to dine on the beach, a picnic on Maafushivaru's private island, Lonubo, is available solely for our guests. Escape across the turquoise lagoon to indulge in an Exclusive Lonubo Picnic which guests can enjoy on their very own private isle – the best way to sample a millionaire lifestyle, and ensure pure romance! This very special experience is available from 11:30 till 14:00.
For more information visit – maafushivaru.com/island/lonubo.html
Price:
Picnic Basket: US $35.00
Exclusive Lonubo Picnic: US $85.00 per person