West Virginia's Appalachian Winter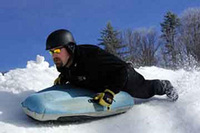 Snow tubing, skiing, skating, snowboarding and around 150 cross-country trails, West Virginia offers an extended winter season for all skiers and winter enthusiasts with slope elevations reaching 5,000 feet and an abundance of natural and man-made snow.
Surrounded by the scenic Appalachian Mountains, West Virginia has the perfect landscape, located in the mid-Atlantic and Southeast United States and only a short drive from Washington D.C. West Virginia is host to many popular and award winning ski lodges including: Snowshoe Mountain, Timberline, Canaan Valley, Winterplace and Oglebay. These resorts have a range of slopes designed for varying skill levels with lessons to improve and equipment to hire. Several of the resorts, such as Timberline and Canaan Valley have combined facilities to offer special packages such as "Ski the Valley"
This Mountain state offers a range of activities during the winter season in addition to outdoor events such as the Winter Festival of Lights leading to 2013 when West Virginia celebrates the 150th anniversary of its statehood.
West Virginia's five major resorts include:
Snowshoe Mountain
Acclaimed as one of the top ski resorts in the mid-Atlantic and Southeast, Snowshoe Mountain Resort has nearly 200" of annual snowfall. This resort features nearly 1,800 rooms, from standard rooms to whole-family lodges, and terrain ranging from beginner to expert levels. snowshoemountain.com
Oglebay Resort
Located one hour from Pittsburgh, this 1,700-acre resort features a spa 53 cottages, 72 holes of golf, dining, shopping, gardens, museums, and a zoo in addition to its skiing venue. oglebay-resort.com
Canaan Valley
Surrounded by 18 miles of trails, Canaan Valley offers lodging in a picturesque location. The resort offers 150 rooms and 23 private cabins. There's also a new tubing park with 10 new, longer lanes as well as a Warming Hut. canaanresort.com
Timberline Resort
Timberline Four Seasons Resort offers 37 trails, 4 lifts, and some of the best tree skiing on the east coast. This resort features a longest run of 2 miles and averages 150" of natural snowfall each year. timberlineresort.com
Winterplace Resort
Winterplace Resort boasts a newly expanded terrain park, in addition to its 27 trails and 16 tubing lanes. With a longest run of 1.25 miles, Winterplace Resort's top elevation reaches 3,600 feet. winterplace.com
West Virginia is the most northerly of the southern states and is located entirely within the Appalachian Mountain range, bordered by Ohio, Pennsylvania, Maryland, Virginia and Kentucky.
For more information, visit wvtourism.com.