Team GB gymnast returns from volunteering on gap year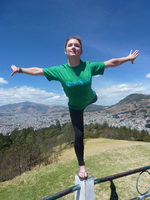 Jennifer Pinches from the 2012 Team GB Gymnastic team who reached the finals of their competition has just returned from volunteering in Ecuador with Camps international. As well as wonderful handstands all over the country she felt she made a lasting difference.
Just one day after she enjoyed tea with the Queen, Jennifer flew out to join Camps International on a 2-month gap year volunteer programme in the mountains and jungles of Ecuador. "As well as being an amazing experience, the Olympics was really hard work physically and mentally so I was ready for something different, a new challenge," said Jennifer. "With Camps you have a lot of freedom inside and outside the programme, at weekends volunteers are encouraged to explore the local area and have fun. There were so many unforgettable highlights; snorkeling with sea lions and alongside giant turtles was unreal. Also, spontaneously running fully clothed into the clear turquoise ocean on the Galapagos Islands, and floating down the rapid current of the Amazon River as a monstrous rainstorm begins to lighten."
When her cousin approached Jennifer about the opportunity to volunteer in Ecuador, she jumped at the chance. "I wanted to visit an incredible place in the world that you wouldn't normally go to on a short holiday, and actively make a real difference in other people's lives". She already had a passion for helping other people and, in the past, used her Olympic kit and gymnastic abilities to raise money for charity. The volunteers at the Olympics also played a big part in inspiring Jennifer. "They were fantastic, always ready to answer your questions or point you in the right direction with a smile. I have the utmost admiration for the volunteers at the games and if I had not been trialing for the team I would have been one myself."
The Camps International gap year programme in Ecuador involves living and working within local communities in the Cloud Forest, Amazon basin and on the Pacific coast. Volunteers work on a variety of projects that improve educational facilities for local children and protect the habitat of the indigenous wildlife. Jennifer felt she made a real difference on her trip. "You can really see the difference that you make which is very rewarding. For example, when we finished the playground for the primary school in Las Tunas, the children put on a show of dancing to thank us. Also, in the nearby rescue aquarium that we worked in, I personally helped to save a pelican that couldn't fly".
"Jennifer had a habit of posting photos on Facebook that kept our hearts in our mouths. As a gymnast she enjoys doing handstands in some of the oddest places, including walls with a huge drop on the other side." Said James Chetwode Gap Manager at Camps International. "We had to arrange a special transfer for Jennifer's arrival as she arrived a few days later than the rest of her group. We have never had a client delayed by the Queen's tea party before!"
Jennifer's father Ian recently contacted the company to say. "Jennifer has clearly had an amazing experience with you!! Everything was certainly highly organized, healthy and safe. But, I believe what made it for Jennifer was the personal touches; the care and attention to detail and the opportunities to spread her wings into new experiences with your full support. She has been on top of the world since returning and will happily tell anyone who asks what a fantastic time she had with Camps International."
For more information, visit campsinternational.co.uk.