Jet off for Life of Pi in India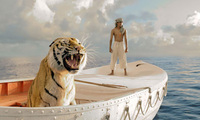 Yann Martel's magical adventure, The Life of Pi, comes to the silver screen this month, a fantastic tale of Pi Patel, the son of an Indian zoo keeper shipwrecked at sea with a zebra, a hyena, an orangutan and a 450-pound Bengal tiger. Fans of the movie can fly off to discover the Indian film locations with Jet Airways.
The Life of Pi has been described as a "visual wonder" by The Wrap and "one of the year's strongest films" by the Huffington Post.
Directed by Ang Lee and shot in 3D, the hotly anticipated film adaptation stars Rafe Spall as the writer, and Indian newcomer, Suraj Sharma as Pi. The film begins in Pi's homeland of India and moves through a number of beautiful and dramatic land and seascapes as Pi embarks upon both a physical and emotional journey of discovery and uplifting survival.
Lee says that he has tried to portray a "real" India in the film. Early scenes for the movie were filmed in Kerala and Pondicherry, and visitors can seek out the markets and temples shot in places such as Munnar, a popular hill station in Kerala. Most of the computer graphics imagery (CGI) was also done in India, in Mumbai and Hyderabad.
"I felt the book had inherent material that romances and idealizes India in a very specific way," Lee has been quoted as saying. "It is the allegory that India is."
Yann Martel has said that he thinks Lee 'did a pretty good job of pulling it off'. "It's very faithful to the book, it's visually absolutely stunning and it's a whole trip," the Canadian author said.
Jet Airways flies daily from London Heathrow to Kochi, Kerala, via Mumbai from £552 per person return including taxes. Flights are also available from Manchester and Birmingham via Brussels. Jet Airways has the largest domestic network and flies to 73 destinations across India and beyond. For more information and to book visit jetairways.com.