For the Love of Mrs Brown comes to town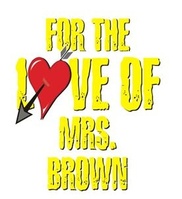 BAFTA Award Winning Mrs Brown's Boys are back for their biggest arena tour to date and are coming to the LG Arena with their new show 'For The Love Of Mrs Brown'.
'For The Love Of Mrs Brown' is part 4 of the hilarious series written by and starring Brendan O'Carroll. The new tour follows the phenomenal success of BAFTA Award Winning Serial Comedy Mrs Brown's Boys on BBC ONE. Currently filming their third series Mrs Brown's Boys has been an automatic ratings smash with last year's Christmas Special reaching 8 million viewers.
Apart from winning the TV BAFTA for Best Situation Comedy this year, Mrs Brown's Boys have gone on to win a TV Choice Award for Best Comedy Show, the Scottish BAFTA award for best comedy entertainment programme, an IFTA award and a TV Times Award all in the space of 12 months.
The plot 'For the Love of Mrs Brown' shows a small slice of life for Agnes Brown as she deals with Granddad's Viagra addiction, her flamboyant hairdresser son and his partner's bickering, her daughter willing to go under the knife to get a man's attention, not to mention the appearance of Superheroes in her own home! - All this while she tries to find herself a date for Valentine's Day.
What: For the Love of Mrs Brown
When: Tuesday 26 - Saturday 30 March 2013
Where: LG Arena
Price: Tickets are on sale now, priced at: £39.50, £31.50 & £21.50 (plus booking & transaction fees). To get your tickets, head to theticketfactory.com.